My tent, ground sheet, and hiking cloths were all soaked. The rest of my stuff is damp. I strapped the soaked stuff outside my pack, wore the rest, and started moving.
Just North of Echo Lake is Desolation Wilderness. I've been hearing about this area for a few weeks from Southies. They say it is beautiful, which I don't get given the name.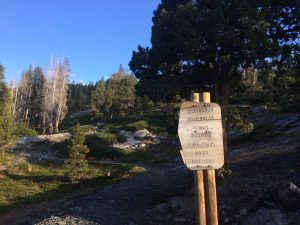 The PCT follows the Tahoe Rim Trail for a few days. The good news is it is well maintained. The bad news is that there are many other trails intersecting here and the markers are hard to read. Just a 4×4 post stuck in the ground with signage carved into them vertically. Often these posts are just set in a pile of rocks and are not always oriented properly.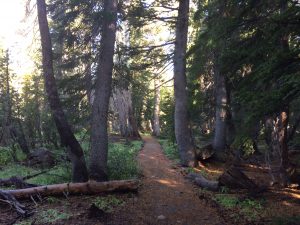 Got some photos of the heart of Desolation. I supposed it is interesting. Lots of solid granite with ponds and small lakes.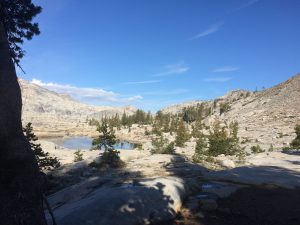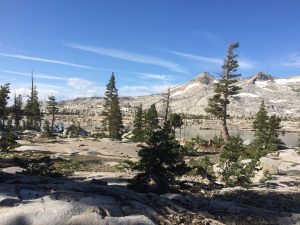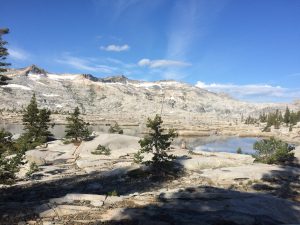 This would be an interesting place to explore if there was more time. I stopped for breakfast in the sun and laid out all my wet stuff to dry. Breakfast was a treat today. I'm having a couple of Soho's beers with freeze dried bacon and eggs. Yum.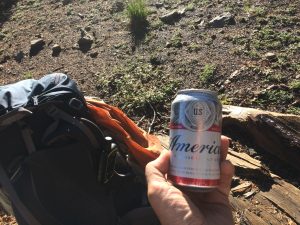 I chatted with some folks doing the Tahoe Rim trail. They gave my breakfast choice 4.5 out of 5 stars. After packing up my newly dried stuff, I hiked the PCT for a little while then got off on the wrong trail again. The signs are crap here. Did get some good pictures going the wrong way though.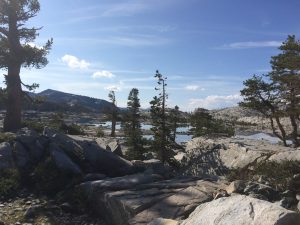 After correcting and back tracking I took another pic at 11 of the area close to the picture above. Notice how the clouds are building early today.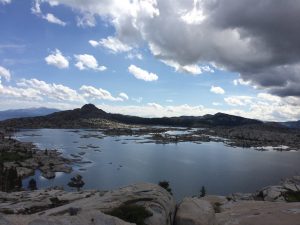 This was not looking promising. I could already hear some thunder in the distance. Sure enough, at 1:30 it began to rain.
The intensity quickly built up. Soon it was pouring at 8,200 feet which is the base of the climb to Dick's Pass. This was not going to be a good day.
I started climbing into the storm which kept getting worse. Soon it was a mixture of hail, sleet, and rain. It would cycle between all three. At 8,600 it got particularly bad with the lighting hitting near me. To wait it out for a bit, I sat under a tree in the rain and made lunch on my stove. I was getting soaked sitting there huddled over some boiling water with chicken and noodles.
Looking over the valley, the damn storm just would not move. It was a solid dark cloud hanging there with lighter skies around the edges where the mountain peaks were. This storm was going to sit here all day.
I gave up waiting and started hiking. Need to get over Dick's pass and hopefully clearer weather so I can find somewhere to camp for the night. My rain jacket was leaking along the seams so pretty soon everything I had on was completely soaked. The wind came up and if I didn't keep moving I was going to get hypothermia. I was so wet that I couldn't use my phone for navigation…the touch screen is useless in these conditions.
Slogging up the trail the hail portion of the cycle became more frequent. The trail was a river of water and finally gave up trying to keep my feet somewhat dry. I was hiking in 3 to 5 inches of flowing water all they way to 9,400 feet. Remarkably, cresting the pass and descending the other side led to a clearing of the rain. Made it down to Dick's lake, quickly setup my tent, and crawled just before the next wave of the storm hit. Took me a couple hours to warm up in my remaining dry cloths and sleeping bag.
This was one of the hardest days yet on the trail. Walking through heavy rain / sleet with a leaking rain jacket in 40 degree weather is a little on the dangerous side. I need to do a better job checking out my equipment next time….especially on a thru-hike where there is no redundancy in equipment.
The mileage for today sucked. Just 13 miles. In dry weather I could have done 25 or more miles on this trail. It is that well maintained.