Last night another through hiker rolled in and camped next to us. In the morning I met him. It is the German-American guy I'd last seen at Tuolumne. He's going my way so we started the morning together.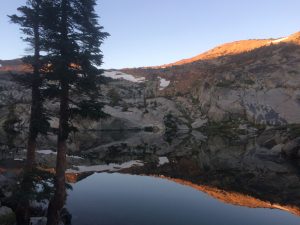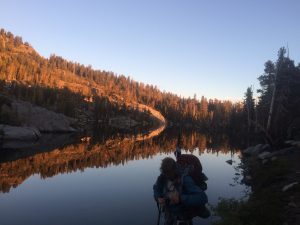 Octane likes to take a late breakfast which worked out well for me too. We hiked from 6:30-9:00, then pulled over. Gave me time to dry all my crap out (again).
We stayed together throughout the day exchanging the leads. His pace is similar to mine and we were both pressing each other a bit to scratch out more miles.
Climbing from 7,700 into the Granite Chief Wilderness, the clouds started rolling in again for our afternoon dousing. I'm so sick of this.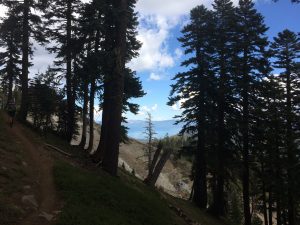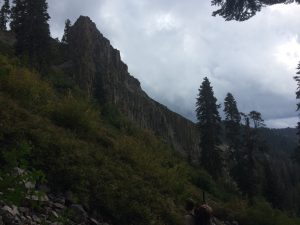 We sat down under a tree when the hail first started. It was marble sized for a few minutes, then got smaller, and finally transitioned to rain. Octane is using a cheap umbrella that he bought a few days ago. Looks like a lighting rod to me.
At the first break in the storm we both packed and got rolling. Octane took another break an hour later, but I pressed on through the storm. I'm not getting stuck on another pass like yesterday.
The rain broke up on the way down and I snapped a couple photos.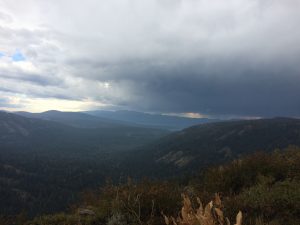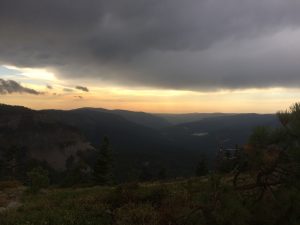 I descended into the a large campsite near the Five Lakes trail junction. Rain had stopped and the campsite stayed dry for the rest of the day. Octane showed up a bit later.
I'm running out of food, but Octane, either through pity or the selfish desire to lighten his load, gave me one of his dinners. Good thing too, I'm down to half a bag of fritos and some chicken and rice.
Did 28 miles today. Turns out that the threat of starvation does increase motivation.