Cleaned my nasty sleeping bag which seems to take 2 days to dry. That is such a hassle. Got resupplied and re hydrated. Interesting all day I was drinking and eating and drinking and drinking. I have to be careful about this in the future. I need a lot of water on the trail and I need to stop cutting that short.
Birthday party with Francine at a lot of pizza and talked about pooing in the woods. That seems to be the first question everyone wants to talk about, lol.
Showed off my hat which I haven't washed for 3 weeks. It has a pound of sweat-salt on the rim. Yumm.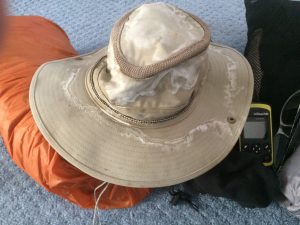 Plan is to hit the trail late tomorrow and do some serious night hiking.