I woke up at 6:30am in a grumpy mood today. Last couple days have been through overgrown trails and over a bunch of fallen trees. Adding to my distress are these constant descents deep into river valleys followed by 4k climbs back out. Was looking at my plan today and took a pic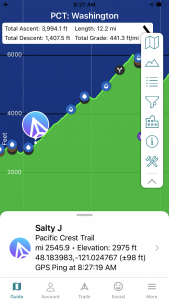 I packed all my crap, rolled out of the tent, took that down, and finish packing. The gal I camped near last night climbs out of her tent after I put my pack on. She introduces herself, Jessie. She looks to be late 20's / early 30's and is full of questions. I yank my pack off and start talking. First thing she asks is "Do all you PCT'ers arrive late and get up early like this every day?" "Yup, it is all about getting the miles in", I reply. We talk about gear for a bit. She is Southbounding the Washington section of the PCT which is around 500 miles. She is close to the start so probably has only been on trail for a few days. I have a look at her setup. Ultralight tent, bag, foam pad, etc. A long-distance thru-hiker in the making.
Bunch of questions about how many miles I average, where I started yesterday, etc. Then comes the the question everyone asks…. "What do you like about the trail and the experience?" I start down my usual spiel. "You meet wonderful people on the trail, interesting folks off the trail, everyone helps each other, beautiful views, blah blah. " Then my bad mood takes me WAY off script and this comes spilling out with no filter: "…flies biting your ankles, inhaling clouds of mosquitos, 4k climbs up and down mountains sweating your ass off, fucking trees everywhere that are either blocking the trail or blocking the view…..Man, I just want to go home. I want to sit on a couch with my wife and watch movies for a week."
I stop ranting and just look at her. She is processing. Finally she says, "It sounds like you are getting a little homesick." Heh. Yes I am. I pick up my pack and mumble a "good luck". Enjoy the outdoors.
In my darkened mood, I head off to climb YA4K (Yet Another 4,000ft hill).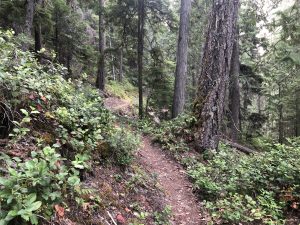 I climb over a bunch of these leviathans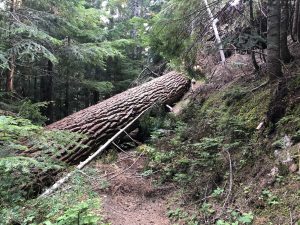 I'm bitching to myself into a negative spiral. Why the hell do the trail maintenance crews have to use two person hand saws to cut this stuff? It would take all day to get through the log pictured above…..if there is even a saw long enough. Give me 2 days with a can of gasoline and a decent chain saw, all of this would be cleared. Stupid Forest Service. Stupid trail. Then I hit this carnage.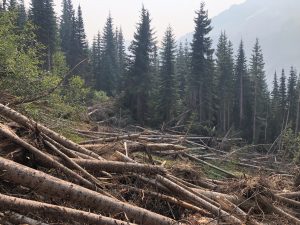 Yes, the trail goes right through the center of that picture. Takes 20 minutes to pick through this mess and get to the other side. When I finally get there, I drop my pack and sit on one of the many logs available to me. Never a shortage of those. A black fly lands on my arm. I watch it bite a chunk of my skin off.
I need to change my mood. I dig around my food bag and discover I'm all out of candy. My remaining meals consist of disgusting Breakfast Skillets and one Spaghetti which I'm saving for dinner. I have this taffy I bought somewhere and try it. Ugh, it it black liquorish variety and it tastes like dirt. I'm becoming desperate….this is a Bad-Mood-Emergency and it is time to bring out the big guns. Back when I started the trail in Oregon, I visited a Cannabis shop to buy a couple joints for special days. Before I left, I also bought one edible on a whim.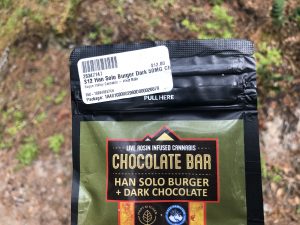 A few puffs of a joint is one thing. Edibles are a whole different level because the effects last all day. I never consume these things. Well, the day can't get any worse and I need a reset. Plus, it is made with dark chocolate which is top on my list of things-I-wish-I-had-right-now. Save me, Han Solo !
I eat that, put on my 60's hippy music playlist, turn the volume up to 11, and continue climbing. I finally get out of the dense forest and get some better views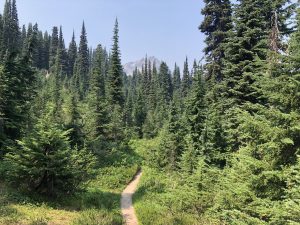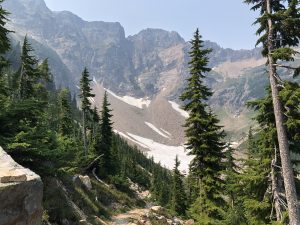 Around 1:00 I cross this.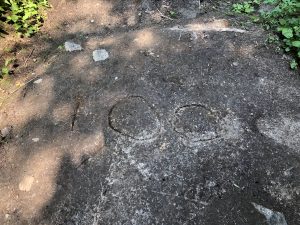 Yes, I'm in double digits now ! Counting down from 100. Cresting the Cloudy Pass, the trees fall away and I get some spectacular views.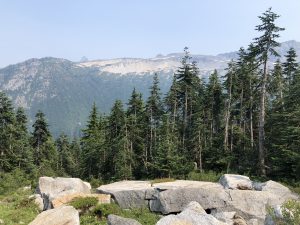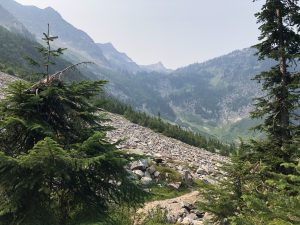 Even the creek crossings are cooperating.
After cresting at 6k, I'm on a long descent that will eventually end at 1,500 and the intersection to Stehekin. I figure if I do another 25 mile day, that will put me 5 miles from the Stehekin shuttle which picks up a little after 9:00 AM.
Dog Bite catches up with me later in the afternoon when we hit a big creek crossing. The bridge here is washed out, but fortunately a large log crossing is available. This one is a layup. Wide with plenty of traction. When I get to the other site, I video Dog Bite coming across.
Moving on are a few more easy crossings and good trail. The recent deadfall has been cut off the trail. Near the end of the day, I reach Agnes creek which carves a deep canyon through the valley. There is a pretty waterfall that I video.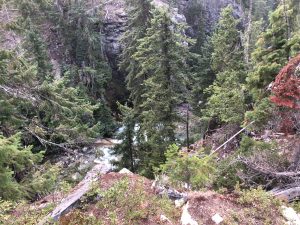 Shortly after taking this video, I saw a couple stop at the side trail leading to the water fall. Both wearing light packs, the guy has an Orange hat. It is Endless and QB! I met those two at Scissors Crossing when I was doing my May shake-down hike in the desert. He is a firefighter from Boston and she is from Queens NY. He's got that thick Bahhston accent, which I always find groovy. Super couple. Stormtrooper thought they might catch me before the end, they have been doing 30's for most of the summer. We spent some time catching up, hiked together to the next camp spot, and setup. Spent the evening over dinner trading stories about folks we met on the trail.
And that is how it goes out here. Truly one of the things I love the most about thru-hiking. You meet someone you like, get separated for various reasons, then months later turn a corner and, there they are again. My day went from a lonely funk to hanging out with some old friends. Thank you Han Solo !