Hike Summary
The PCT is currently 2,659 miles long. I finished 1,770 miles of it.
Of the 20 weeks allocated toward the hike. I lost 1 of those weeks due to shin splints and took another 3 weeks off for a family emergency. All together I did about 16 hiking weeks for this trip, averaging about 110 miles/week.
When I was planning the trip, I figured the most realistic scenario would see me leaving the trail in southern Washington. Turns out it that if I had those 3 weeks back and if Oregon had not caught on fire, I would have finished in Washington at about mile 2,200. If I took fewer zeros or if the snow levels in the High Sierras was lower, or if I had taken a few extra weeks……If, if, if.
What was most important to me on this trip was to have zero gaps in my footpath. I'm proud to say I walked every inch of the PCT from the Mexican border to Fish Lake, Oregon. Many folks, even the hardcore ones, had to skip some sections due to fires or high water. Fortunately I did not have to, so I'll never have to go back and hike some section to fill in the gaps.
That said, I still have 889 miles to go. It will be a great motivator to stay in shape over the coming years while I section hike those remaining miles. I will get this beast done and when I do, the personal satisfaction will mean even more!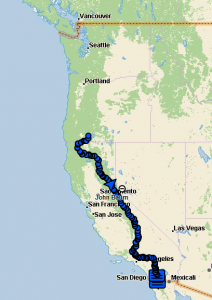 Equipment Summary
I made quite a few changes after my test hike during Thanksgiving, 2016. During that period I did the first 77 miles of the PCT and discovered that I needed to shed some weight and some small rechargeable batteries to go with my solar charger. Surprisingly, the equipment I started with on April 27th was what I ended with on September 15th. There were a few things I dropped during the last stretch through the High Sierras and some stuff I would have liked to switch, but I did not want to monkey around with a system that was working pretty well.
First the pack and things on the outside.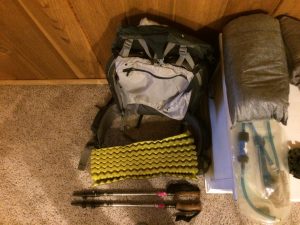 Pack: Gregory Baltoro 65 – I probably saw less than a dozen PCT'ers carrying this pack. It is considered too heavy and "feature rich". Personally, I like the pack. It can carry huge loads, never sags, and is very comfortable. I'll be using this pack for years to come. If I was going to do this hike again, I'd probably switch to a ULA pack and keep my load lighter.
Sleeping Pad: Therm-a-Rest Z-Lite Sol. This was an addition in Ashland, OR. Before, I had a super-old roll-up pad used for breaks and an inflatable mattress used for sleeping. After Ashland, I ditched the old roll-up and experimented with just using this pad for sleeping and found it to be good enough. Frankly, I think at that point I was so tired at the end of the day that the extra comfort of an inflatable was not that important. Love this thing.
Poles: Some crappy aluminum REI poles. I don't know the model. I didn't know how much I would use them so I bought the cheapest set. Turns out I used poles about 50%+ of the time on the hike. I have a philosophy that using poles too much causes me to ignore having good balance. That said, there were times that I really needed them when I was tired or walking sketchy downhills. I beat the shit out of these. The tips are so wrecked that I'll have to toss them. Will probably buy some carbon fiber poles next.
Not Pictured: A small compass, thermometer, whistle combo thing that I hung off the back of the pack. Good gadget, mainly to check the temps.
Next is an overview of my pack's contents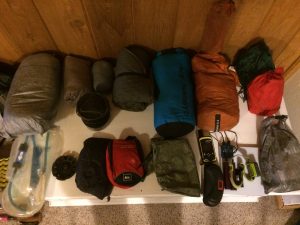 First row, starting from left
Sleeping Bag: Zpacks Solo Sleeping Back and Stuff sack. This thing was amazingly light at about 1lb, 4 oz. It is a "20 degree bag" but that was a stretch. I had to layer up when it got that cold, sometime even sleeping in my puff jacket. My only real complaint is that the shell material is so thin that after 100 days some of the seams began to separate and the down was falling out. But hey, I saved 2 pounds over a comparable bag!
Puff Jacket: REI down jacket without hood. Held up great. Still using it on day hikes.
Inflatable Pillow: Cocoon Ultralight Air-Core pillow. I LOVE this pillow, all 6 ounces of it.
Stove and Pot: Jet boil Mini-mo. This stove rocks. Heats water extremely fast and the insulated pot kept food hot until I was done eating it. Some folks had trouble with their igniters, but I never did. I tossed the plastic legs. The gas canister fits inside. Great system.
Inflatable Pad: Therm-a-Rest Prolite Plus. This is a self inflating pad. Never had any holes nor problems with the self inflation. Just unroll it while setting up the tent and by the time I crawled in, it took a couple puffs to finish inflating. That said, it was bulky and as mentioned above, I ditched it for the last 400 miles to save pack weight and space for my stupid bear can. I think I'd carry this again especially in cold weather and combine it with a foam pad for extra warmth.
Clothing Bag: Sea to Summit waterproof bag. I'll get into the contents later. I'm fortunate to have traded from a mesh bag to this after a couple months on the trail. Just in time for some rainy days. My cloths never got wet.
Tent: Big Agnes Copper Spur UL2. It is a two person tent and arguably overkill for a solo hiker, but I liked the extra space and really liked the side entry. All the lux adds weight, coming in at 3.5 lbs with the ground sheet. It held out the rain and was my haven from mosquitoes. I might go with an ultralight single-wall tent next time to save weight, but this was a solid choice. Only wear and tear is 2 holes in the netting that I caused. Unicorn taped and good as new.
Stuff Bags: Green one was my miscellaneous stuff, the Red one was hygiene. Get into those later.
On the second row
Water Bladder: Platypus 2.0 Liter bag with Sawyer squeeze filter inline. I spent a lot of time working on this system. There is a quick connects between the bite valve and the Sawyer. I could take off the bite valve and use it as a gravity filter to get water for cooking. I made an attachment that would also go on this quick-connect to back-flush with a Smartwater bottle. All this stuff worked well enough, but it turned out to be kind of a headache keeping the filter clear. Next time I might just ditch the bladder and use a Sawyer squeeze with water bottles.
Snow Baskets: Attachments for my poles when going through deep snow.
Rain Jacket: This thing is a 10 year old Sierra Designs jacket. It is heavy, and the f#$%ing seams leaked during heavy rain. I didn't discover that it sucked so bad until I really needed it. I will burn it after I finish this entry.
Med Kit: I paired this down a lot. I stored some bandaids, dressings, some compression tape (to wrap my shin occasionally), extra duct tape, various zip ties, tweezers, and alcohol wipes.
Food Bag: My fork/spoon combo was always stored there.
Tracker: Delorme tracker that I traced my route with. It was handy to send text messages as well. Originally I didn't want to carry this, but Alice insisted. Turns out it was very useful. Don't leave home without it !
Glasses Case: I carried and extra pair of glasses there plus sun glasses for the times when I wore contacts.
Solar Panel and Bats: This was a suntactics-8 panel. I Velcro'd a couple cheap 2800 mah batteries on the back. Usually I toss this panel on the ground during lunch and charge the batteries, then use the batteries to charge my phone, Delorme, kindle, whatever. Sometimes I'd charge those things directly. It was great to charge "off the grid" ….but…it was heavy, inconvenient to setup when trees covered the trail, and frankly I only needed 5 to 7 days of power until the next town. Next time I'll probably ditch the panel in favor of a couple bigger batteries.
Headlamp: I got this from Soho after my other one died. Cheapo lamp that uses 3 AAA batteries. Did the job.
Electronics Bag: I'll get into that one in a minute.
The clothing bag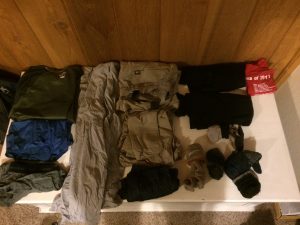 I'll do this in columns.
Column 1: Two T-shirts and a set of synthetic boxers. One of the T-Shirts was a merino wool shirt that I almost always used for hiking. The other was a synthetic that I used for town days and occasionally for hiking. Merino wool is the bomb.
Column 2: REI hiking shirt. Long sleeves that I could roll-up. At first I used this every day, but after I got a good tan, I would only wear it when in the cold mornings or the mosquitoes were hating on me.
Column 3: Convertible shorts, the zip-on legs, and a set of cheapo running shorts. Over time, I stopped wearing the convertibles and instead wore just the running shorts. They were pretty skimpy and I got more than one comment about it…but super comfortable. I used the zip-on legs a handful of times. I'd probably re-think this combo next time.
Column 4: base layer long-johns and long sleeve top, a pair of sleeping socks, and 3 pairs of hiking socks. The base layer stuff I would put on before sleeping so my bag would not get dirty. I also used them a few times when it got cold during hiking. The socks were all darn tough brand merino wool. Great socks.
Column 5: PCT Bandana. I hung this on the front strap of my pack to dry my face, clean my hands, etc.
Next is my Miscellaneous Bag (green)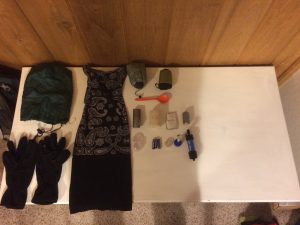 Gloves: Some cheap fleece liners that I had laying around. Worked great!
Buff: This guy was indispensable. I'd wear it to sleep on cold nights. I put it on during cold days. Used it as a beanie around the campsite.
Z-packs Down Hood: I thought this would be useful for sleeping. Tried it a couple times and I hated all the crinkly noise it made. It cost $40 and weighed nothing, so I schlepped it around the whole hike.
Bug Head-Net: Never used it.
Extra Spoon: Never needed it, but glad it was there just in case. Heard many stories of folks losing their spoon and resorting to a tent stake or a stick, heh.
Swiss Army Knife: This ultra-delux army knife was also ultra heavy at 1 lb. I will toss this boat anchor next time in favor of a simple pocket knife next time.
Extra Compression Tape: Yeah, I needed it.
Patch for Air Mattress: Never needed it
Duct Tape: Used this when I ran out of magical Unicorn duct tape
Ear Plugs: Never used them. I was usually so exhausted that nobody could snore enough to wake me.
Extra AAA's: Always had a fresh set for the head lamp.
Special Blower Thingy: Attach this to a trash bag to blow up my air mattress. Used it a couple times, will toss it.
Special Back-Flush Adapter: Mentioned this above. This thing would screw on a Smartwater bottle to backflush my inline sawyer. Worked good, but was a headache to setup.
Extra Sawyer Filter: I always carried a spare since they were so light. Good thing too. I froze my filter overnight on two different occasions and had to switch it out.
Now we move on to the Hygiene bag (red)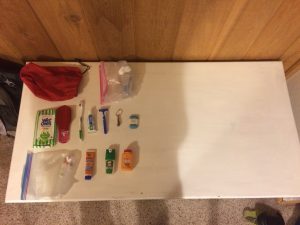 This particular bag was always within easy reach for those, you know, important moments when you gotta go. Most of this stuff is self-explanatory. One ziplock had contact lenses, the other had some Tums (calcium pills for cramps), Tylenol, and Allergy meds. I'd never go without some Deet. The little soap bar was handy a couple times.
And finally we get to the electronics bag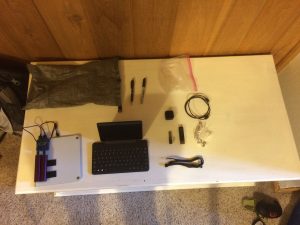 I've already talked about the charger and batteries. The heaviest thing was an old Kindle fire which I used for blogging and book reading. I paired it with a keyboard from Logitech called "Keys-to-go". That combo worked very well. I had a sandisk that plugged directly into my iphone for additional music.
The thing that made all this work well was a SanDisk Connect Wireless flash drive. I could wifi to it with my iphone to backup my pictures and could also connect to it with my kindle. That let me move photos to the kindle for blogging and let me carry some movies, etc for down time before bed.
All this stuff let me basically have a laptop and photo editing workstation on the go. I would not change a thing. It all worked very well together.
BTW, there is some kind of strap on the lower right. I carried that around for 5 months and never figured out what it was for, ha ha.