The Halo tramily walked by while I was packing up. Caught them for some breakfast shortly after. Spent some time getting to know Dipper. He's an interesting character. Very well read. We spent our time talking about various economic systems and their merits. After the trail he plans to finish building out an old Subaru which he plans to drive down to South America in a few years. Seems we are of kindred spirit.
They are planning to camp at Hopkins lake at 2647, then slack-pack down to the border and back. I like that plan since it was similar to my own. I know others are trying to setup further back so they do the whole day out and back on an empty pack. Personally, I feel a little naked being too far away from all my stuff. I've found that Washington has some wild weather swings and I'd hate to get caught in something unexpected.
Hopkins it is.
The terrain is beautiful up here.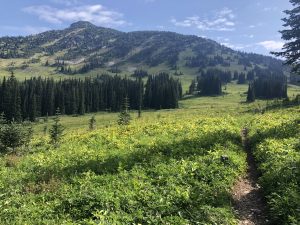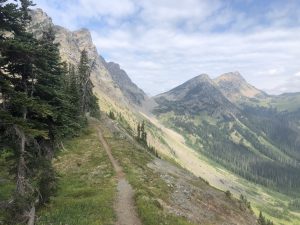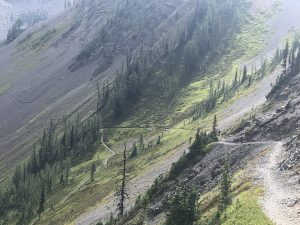 Started bumping into Southbounders who had touched the monument and are headed back to Hart's pass. I'd pass them with fist bumps and congratulations. Everyone is in high spirits. Halo & co is just ahead of me. I see them occasionally traversing a pass. Around 2:00 I catch my first look at Hopkins lake.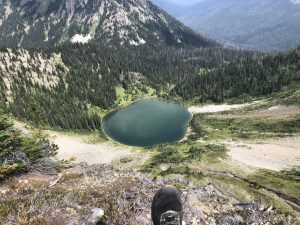 I head down and setup my tent next to a bunch of others. Empty my pack, toss in my rain jacket, headlamp, and a few other things, then head out for the final stretch to the monument. Along the way I run into Endless and QB returning from their communion with Canada. They are pumped. We give each other hugs and agree to meet sometime in the future. Love those folks.
The trail down to the border is kind of an overgrown mess. That doesn't slow me down, I'm heading downhill in a slow jog. Lot of congratulations and fist bumps on the way. My anticipation is building. Finally around 4:30, I pop out of the bush and into a small clearing with the monument. Halo and company are sitting there talking.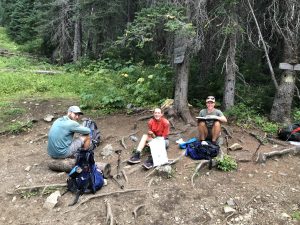 I walk over and give the monument a big hug. I've made it. I snap a few pictures with my tramily friends.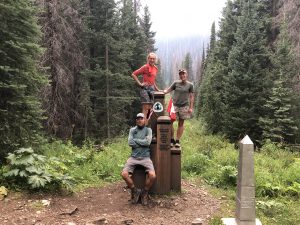 Then light up a cigar I've been carrying since Campo and puff away in satisfaction. Really good cigar. Before Dipper takes off, he gets a few snaps with me at the Monument.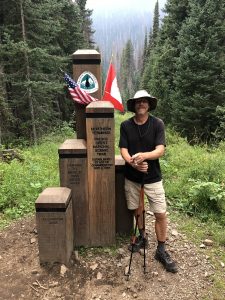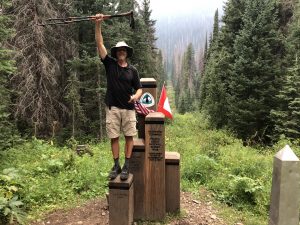 They take off and I sit down, alone to finish my cigar and think a bit. 2,650 miles of hiking over two seasons. I've walked from the Mexican border to Canada through some of the most spectacular, untouched wilderness in the country. I first got this itch back in 2003 and now it was finally scratched. I suppose I should be more emotional but that's the thing about walking 2.5 miles/hour….I've already had plenty of time to process all the emotions. Now I'm just done.
Cigar smoked, log book signed, I picked up my pack and gave the monument one last look then headed back up the trail in the fading light.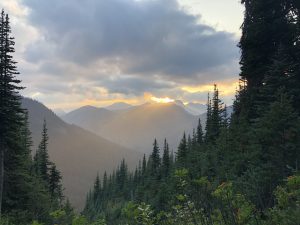 THE END