In the morning Vincent and I jump up when the first day hiker arrive in their cars. We head back into town to shower at the campsite. I get a room for the next night, eat a bunch, catch up with a few other hikers and make arrangements with Steve to get a ride out the next day.
Stormtrooper shows up with Patches and we have a good breakfast and dinner together. Looks like Patches found a new hiking partner in a gal named Jenny. He does ski patrol in the Winter in Utah, she does the same in Vail, Colorado. Both want to do bigger miles. They seem to be hitting it off.
Meanwhile Stormtrooper is getting that "look". That boy is ready to turn on the afterburners. It was fun hiking with him in the early stages, but I think my timing for leaving the trail is a good one. I'd never keep up. I look forward to hearing from him as he crushes the miles ahead.
As for me, I accomplished everything I set out to do. I did my 180 miles and got back into the swing of things. My pace was about 2.5 days faster than last time, averaging ~18 miles a day. I'm pretty confident I can finish this thing when I get to Oregon. I've a nice bonus of meeting a bunch of folks that I will likely run into in Oregon. It will be nice to see some of them again.
That said, I made a list of stuff I need to ponder before I hit the trail in July. Among them are:
– A busted Sternum strap on my pack
– My water bladder / filter / hose setup is a mess
– I might need to switch to a lighter pack and tent. I don't need all the carrying capacity my current pack has.
– New foam pad. The one I have is getting pretty ratty
– A smaller battery with more USB ports. 20000 MaH is overkill
– My earbud and spotify music stuff is not working
– My iPhone's front glass is starting to crack
– A few meal augmentation ideas (bacon jerky is amazing, need some starbursts, some kind of fruity dry powder to improve my water on evening meals, etc)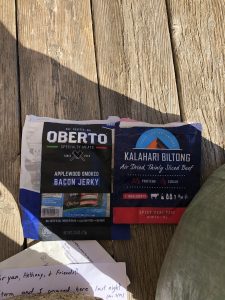 I'll deal with all that in June before I start. See you on the Trail !