Packed, filled up a few bottles of water and headed uphill with Patches. The climb out was some work and I quickly fell behind. Stormtrooper caught up and passed me. We agreed to meet in town later that night. He's hiking with Patches today.
The trail followed last night's script of skirting the ridgeline until around 165 where it turns into a ledge along a steep granite drop off. Scree is everywhere. This is the most Sierra like trail I have seen in SoCal. Along the way I met Mr Giant Rattler sitting on the trail. I really started him when I turned the corner. He flips all over himself trying to get get reoriented to face me all freaked out shaking his rattle. In the end, he turned out to be cooperative, slowly slithering away uphill while I edged closer. It was interesting. He would give me a rattle or two when I got too close, all the while climbing up the steep hill. Eventually I had enough clearance and ran by while he made racket.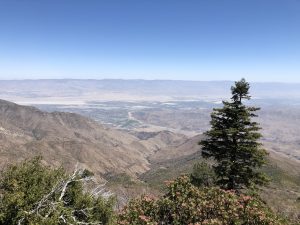 Climbing up a long switchback section, I saw a couple hikers coming up below me. I was making a good pace and figured they'd catch up in 30 to 45 minutes. I was shocked that 5 minutes later a gal is barking an urgent "excuse me". I jumped out of the way and the couple passed me at a fast walk heading up hill. They disappeared a few minutes later, never breaking their pace. I found out later that they were trying to yoyo the trail in 150 days ! They want to go from Mexican border to Canada, turn around, and come back for a total of ~5,300 miles. Wow.
After that I encountered the rock slide everyone's been talking about. I should have taken a picture, it was scary. There was a frayed rope attached on both sides to help, but basically I was scooting along a giant fallen rock that was lodged in the ledge over a 500 foot drop. After that there were a bunch of huge trees to climb over, some of which are slick and pointed downhill over said ledge. It all went well, but caution was pretty important.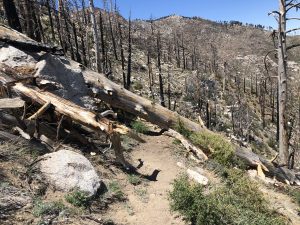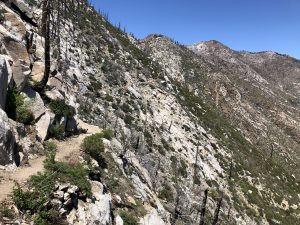 I lapped some more new hikers today. Mostly kids. I heard at Paradise Cafe that a big bubble of hikers passed through a couple days ago. They are one of the party groups who are maxing out their town days with alcohol. Seems to be affecting their pace a bit 🙂
A few miles before Saddle Junction I ran into Vincent and we hiked together one / off. We met up at Saddle Junction and took the 3 mile route down Devil's slide into town. This was some serious downhill. Great for me since I'm done after this. Not so great for Vincent cuz he has a 3k climb out. When we arrived at the trail head, with lots of day hikers were running around. I talked to a few, hoping to set their mind at ease in case they happened upon us during the road walk into town. It worked out as we picked up a hitch a little while later.
Arriving into town at 7, Vincent and I made a bunch of calls only to find out that the all the rooms were taken and the campground was full. We finally decided to duck into a burger / bar place to eat and figure out our next step. Our only option was a $600 airbnb booking. I drank a couple beers and was pondering our fate over dinner when the Karaoke festivities started up.
I call Stormtrooper to find out where he is and he's like "I called ahead and their are no rooms". Yeah, no kidding. He and Patches are camping on the trail near the bottom of devil's slide.
Vincent is an interesting dude. He is Asian from NYC and has never been out West. Never been much of anywhere as far as I can tell. Somehow, he decided to change up his life and gave up his apartment, loaded up his SUV, and headed to Arizona to park it for 6 months. His ambiguous plan after the trail is to "roam around sleeping in his car". He hasn't told his family. Wish I could be a fly on the wall when that message is delivered.
Anyway, sitting there listening to the locals doing a poor job singing 80's songs isn't getting us anywhere. We both decide that Tequila shots might help. And it does! After the first round, 10+ hikers show up from bar hopping and proceed to join the Karaoke party. Gormet is there with Skids and Late Start. We spend some time catching up and I buy a few more rounds of Tequila shots for the reunion. I can't convince anyone to share floor space in their rooms, and these folks can't sing any better than the locals, but we do have a pretty good time.
Eventually, Vincent and I decide it is time to do some stealth camping. We head out to a trail head a mile out of town stumbling along talking about life. He's a good guy. I think he made the right decision to leave NYC behind and try something new. Hopefully I'll run into him again sometime. Anyway, we reach the spot, plow through a few bushes and cowboy camp on a flat spot. 20 miles of hiking + 4 extra miles of hiking/town walking and half dozen tequila shots insures I have a good nights sleep.