Today I entered the Mokelumne Wilderness. What is the Mukelumne Wilderness? I've no idea. Just another word I can't pronounce. I define the Mukelumne Wilderness as the place where I don't have to walk on lava rocks.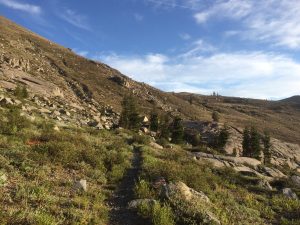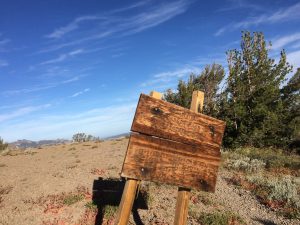 The big bonus today was crossing Carson pass early in the morning. There is a trail head parking lot with a staffed information station and, oh yes, pit toilets. My morning constitution did not have to involve digging a cat hole. After I got out of the toilet, a couple of forest people showed up to open the information station. They gave me some snacks and asked about the hike. Love a little trail magic in the morning.
Then it was a walk down the highway and back on the trail.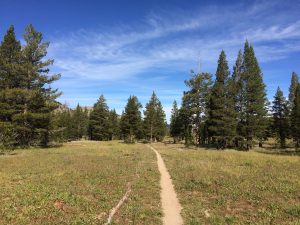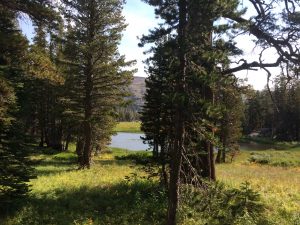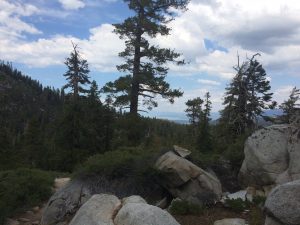 This was some pretty landscape. Lots of lakes and easy walking. In the afternoon I had a special treat. I ran into Trash Panda! Hadn't seen her since Mojave. She had skipped the high country as well and was Southing it now to finish up. She said Joe Dirt and some of the others had also skipped bits but were going to finish this year. Good for them. She let me get a picture.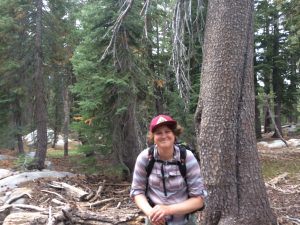 I made it to Highway 50 and a place called Echo Chalet (mile 1092). Soho was there handing out trail magic beers. I hung out with him for a bit. Before I left I grabbed a couple breakfast beers and I noticed he had a big bag of Chili Cheese flavored Fritos. Nabbed that too. Then headed out. The sky was darkening and it looked like a storm might be coming.
Boy did it.
I walked the dam at Echo lake, the the trail follows a rough granite perimeter around the lake. Further I walked, the darker the clouds got. Then the rain hit. I met a couple southies that would later hook up with Soho for a ride into a warm stay at South Tahoe. Meanwhile, I walked through a torrent of rain and thunder.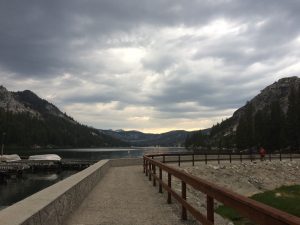 It was getting late (7:00) and I was not going to make any of the campsites that were on the map. Was having a hard time even using my phone app because the moisture screws up the touch screen. It was time to improvise. I saw that on the North shore of the lake there is a public phone, apparently for the folks who live on the lake use this to call for water taxis during the summer. I figured/hoped there would be some kind of shelter there since I was running out of options so I headed down the side trail.
There is a little wooden shack with a phone in it. I jumped inside, warmed up, made some dinner. I was thinking about sleeping there, but the rain finally stopped for a bit. I setup just outside the door. I left all my wet stuff in the phone shack to dry. Managed to get some to sleep and stay reasonably dry that night. Got lucky on this one.
Here is a pic of my storm shelter the next morning