Alice dropped me off at the Oxnard Amtrak this morning at 7:30. Boarded train and headed South to San Diego. I'm writing this bit while on the train.
Last night there was a little send-off at the Castorena's. Lots of "good lucks" and "I know you can do its". Got a load of blessings as well. Suppose I can use them. Fortunately, not too many tears from all the sisters. The message sunk in that I'll be an hour's drive away for the next 5 weeks 🙂 Mia, the nurse, gave me a bunch of skin weld and needles from the hospital. After 20 minutes of conversation about the importance of having a sterile needle on the trail I remain…uh..skeptical.
Big Joe did a last minute pack breakdown with me. He managed to pull a few more ounces out. Dropped a pair of socks and bunch of first aid stuff. Got plenty of duct tape substitute. His daughter Sophia offered negligible value-add, but the entertainment is always welcome.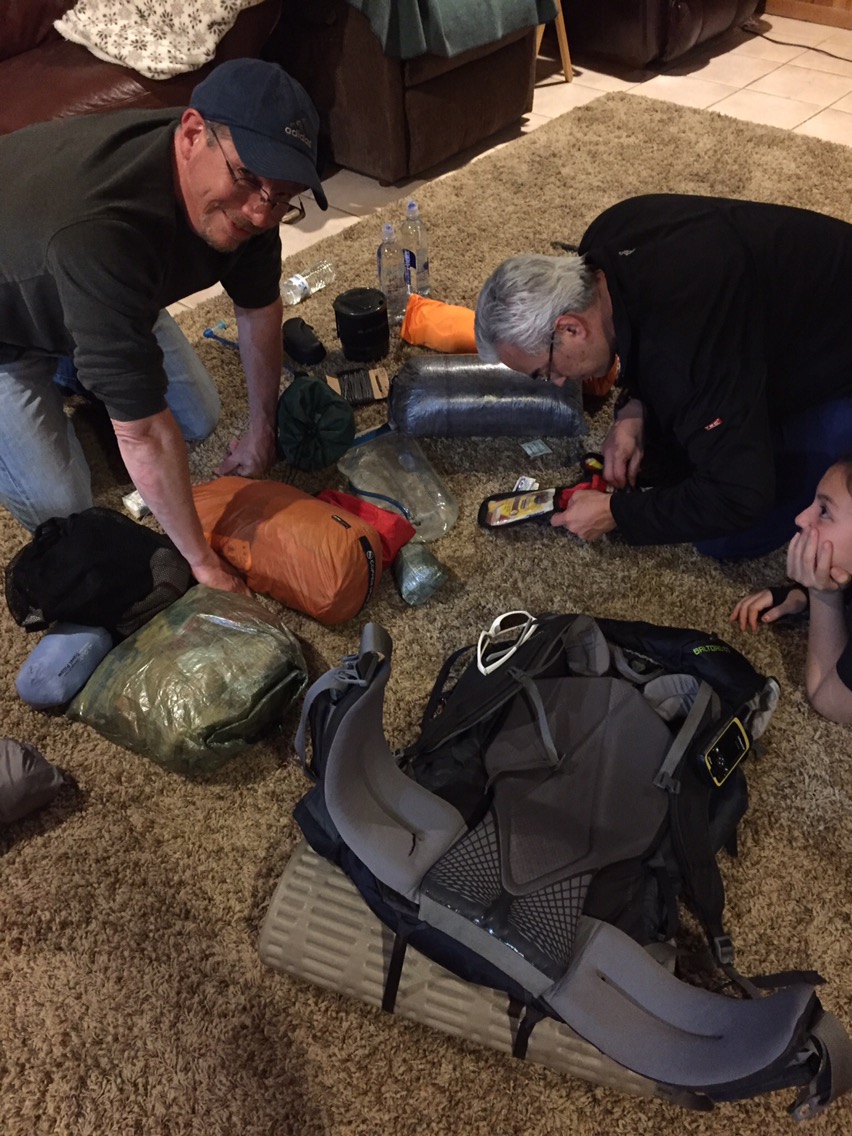 Joe gave me "the look" regarding my solar panel/battery combo I put together. It is soo heavy (1lb + 10oz bats). I'm just having a hard time parting with it. The last 6 months I have devoted so much energy into measuring its output at varying sun levels, the charge times of the batteries I strapped to it, charging times on my devices, etc. I've worked out a pretty good system of lightweight devices but I need reliable power to pull this off. I'll describe it in more detail sometime later if it works out.
On a positive note, he fell in love with my zpacks sleeping bag. I know the feeling….the thing feels like it is made of helium. If I have a positive report, Joe's card will have an extra $500 on the balance.
So, my thoughts about getting started.
The last two months have been very busy packing, selling, moving, transitions at work, etc. In the middle of this chaos my Dad suddenly passed away. Heart attack. I think about him a lot but I avoid going too deep. It will hit me pretty hard at some point on the trail that I won't be able to share the stories. Dad always had a uniquely cynical yet good natured opinion on my adventures. I'll miss that….nobody I've every known had the same mix of intelligence and humor. I'm already getting sad, so on to other things.
The final 2 weeks simply sucked. All the prep had lined up. Alice and I were settled into our temporary lodging, folks at work had taken over all my stuff, all my gear was dialed in, resupply planned, and…. I was bored. Then the anxiety set in. Would I get injured? Snow in the Sierra. Blisters. Sunburn. Poodle Dog bush (look that one up sometime).
My cousin JD hit the trail on the 13th and is carrying a tracker. I'm checking the thing every couple hours. He is making good time. He has powered through the blisters and foot problems. I'm worried about the first week and he is already at mile 200. Every time I check, his dot is further North.
I'm the leap-before-looking guy and I've had 2 uninterrupted weeks to do the opposite. No, this has been going on for 2 years. California had a record snow year and for the first time in 2 decades I DID NOT SKI. Not once. Afraid I'd blow out my knee. Now I get to worry about walking through all that snow in a couple months.
Motorcycle rides offered an outlet for a while, but recently I've been riding like a pussy. Off-road I barely keep enough speed to hit second gear. On-road, I'm get beat (well almost) by a Darrell's shitty 650 KLR because I'm afraid to drop deep into turns. On a mountain bike last week I hesitated to ride down some wide gradual stairs to the beach.
A typical multi-day outing starts with circling a place on the map and trying to get there. The planning phase involves getting dressed. Now the only map I look at is the one with JD's stupid DOT on it.
There is a John Muir quote that says "Sometimes a man just needs to jump over the back fence and go walking" or something like that. This would be much easier if it was a decision made and executed in a couple weeks. Or even better in a day. 2 years of preparation is just too much misery.
Thankfully all this crap is now over. I can start walking and see what happens.