Cows. Cows running around everywhere. Each with a bell on their neck, clanging away.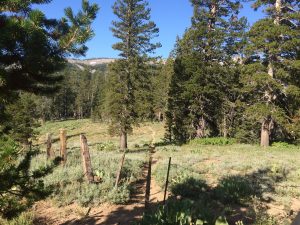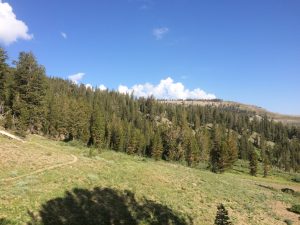 Most of the time I could not see them. But they are out there. On the one occasion I caught some in the meadow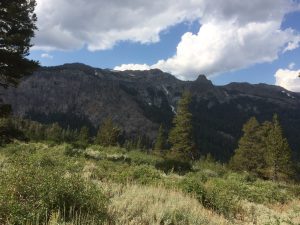 I ran into a few cowboys with their dogs. They were heading out to round up some of their herds and get them closer to the loading chutes. I was asking about the dogs. They said they use the horses to set the general direction for the herd and the dogs work the perimeter to keep them all bunched up. I wonder how they train them to do this.
I got through the last fence and entered an area of old lava flows. Made for some interesting change of scenery. This stuff is pretty old so the trail was not bad to walk on. Most of the loose stuff had been weathered down.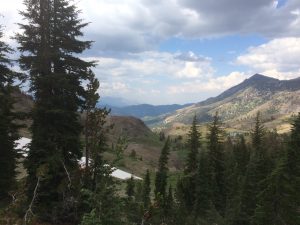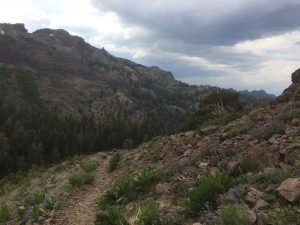 There were a bunch of mixed lava / rock balls that had rolled down the hills over time. They make interesting set pieces.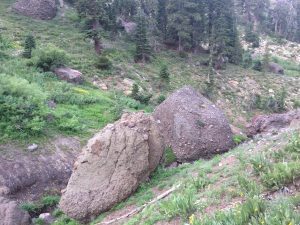 Somewhere along the trail I ran into some old friends. A Swiss couple that I first met South of Big Bear. They had earned the trail names of Gilligan and Mongoose. I recalled that they had done some mountaineering in the Swiss Alps and were carrying some pretty sophisticated looking equipment for snow and ice climbing. Well, it turns out that they did a bit of the Sierras in early June and determined that it was too sketchy. They bounced up to Washington and southbounded from there. It was good to see they didn't mindlessly push through.
I found a nice spot near a stream and solo camped for the night. I decided to take it easy for a while, going to try to keep to 20 mile days.