This morning I got up a little early and packed the tent. Soho and I sat on a log and had some breakfast. The leader of our lux campers next door managed a "good morning" to us. We were so blessed. He was shouting to his crew to be ready by 7….they were still packing tents at 7:30 when I left.
The morning started with our first ford. River is about 40 feet wide,. Both Soho and I have been carrying a set of old trail runners for this purpose. I put mine on and jumped in. Water was only 2 feet deep, but man was it cold. When I got to the other side, I couldn't feel my feet. I pried my wet shoes off, switched to dry, and started walking. Feet stayed numb for another 20 minutes, then eventually warmed up.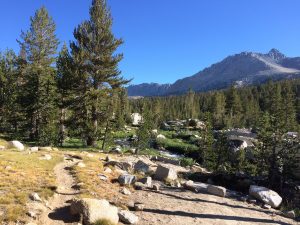 Today the skies were finally cloud free.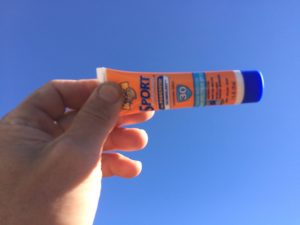 Notice how the trees get scrawnier as I climb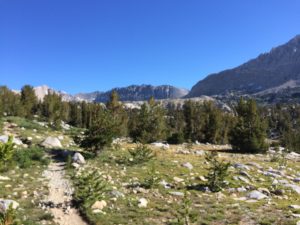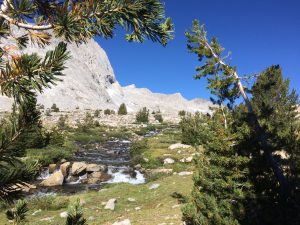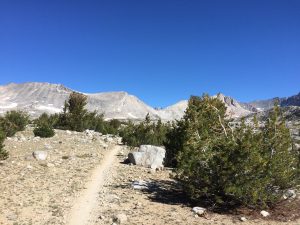 The approach is a has me facing a giant bowl. It acts like a sound reflector, I could hear hikers chatting on their way down. These two were particularly loud. Yapping about babies
Mather pass is known to be a intimidating because it is a 1,000 feet of loose scree. The pass itself was not that hard to climb. I did briefly get creeped out during the climb thinking about walking on this narrow path surrounded by loose rocks above and below. Increasing the headphone volume seemed to solve that problem. I cleared the 12k foot peak around 11:30.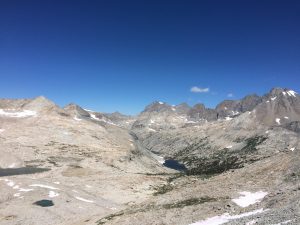 The first bit of the decent was nasty. The North facing slope still had blobs of snow on them and the pitch was super steep. Had to do a couple rock scrambles to get below the snow covering the trail.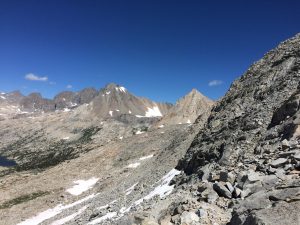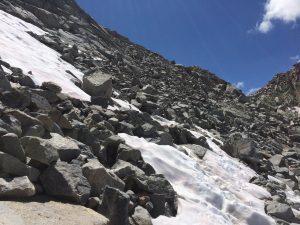 I always try to keep the camera level on this pics so the pitches are accurately represented. Looking at these now it doesn't convey how it actually felt. Dropping up to 2 feet per step on sometimes loose boulders at odd angles while wearing a 40 pound pack. Just happy I'm not there anymore.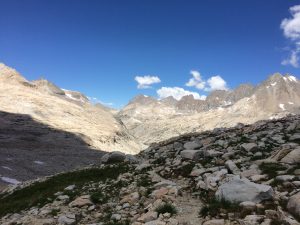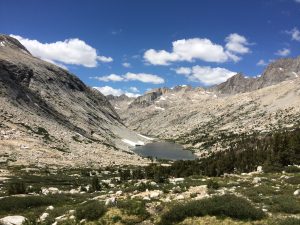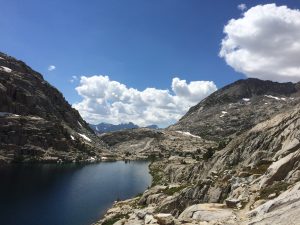 I ran into a guy named Michael who gave me a little info about the area. Here is a little video around Palisade Lake. The ridge line I incorrectly call "Paradise Ridge" is, I think, the Palisades. On the other side of that ridge is the biggest glacier in California. Below Mather Pass
Rest of the day continued to be a very long descent. Somewhere along the way, I hooked up with Michael again and we hiked together for a bit. He was trying to decide where the optimal place was to smoke a joint. Apparently he visited his local reefer store in Nevada and told him his plans to hike for a week. The guy there pulled up a database of different strains, recommending "Blue Dream", "White Rhino", and some other one he couldn't remember. Hmm…. When I was young you got whatever the dude had stuffed in his underwear. Michael really wanted me to join him in his Blue Dream moment, but that seemed a good way to waste half the day. I left Michael sitting on a rock enjoying the scenery. He is probably still there.
Passed the lower Palisade lake and started descending the "Golden Staircase". Believe me, it is anything but golden.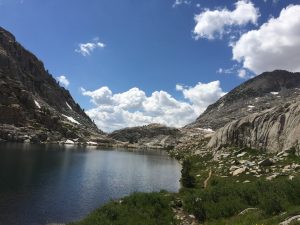 The staircase is a tight, steep spiral below the outlet of lower Palisade lake. Thing is so tight that I could not find a good angle to take a picture. Folks climbing up it seemed distinctly unhappy.
On the way down I ran into an older lady who kind of reminded me of Aunt B from the Andy Griffith show. I had the impression she'd get winded just walking up a flight of stairs…yet here she was. Then I got the story, apparently some kid saw her start climbing. He ran over, dropped his pack, grabbed hers, and ran her it all the way up. At least a 500 to 750 foot climb. Now that is some trail magic.
Rest of the hike was uneventful. Greener and more water. The descent eventually bottomed out at 8,000 feet.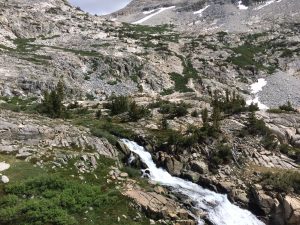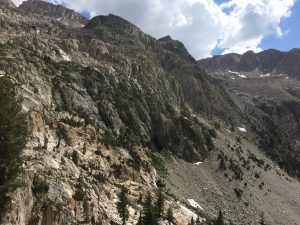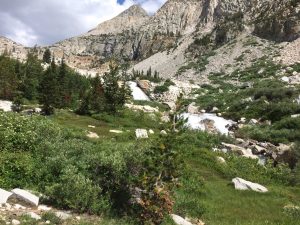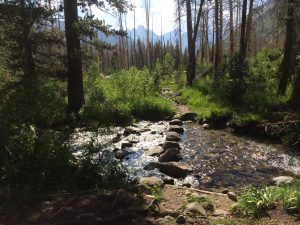 The last 5 miles or so were flat and easy. A couple miles before the campsite I had an unexpected encounter with some Southbound PCT'ers. First was this German lady in her 50's. She was cruising and didn't want to talk. Then I ran into a gal I vaguely remember named Mayo with some JMT gal who was hanging with her. Mayo said the German gal was rushing ahead to get a campsite before it was claimed by the JMT hoard. She mentioned another PCTer was pulling up the rear.
I walked on for a few minutes then I ran into Flame. We were both so surprised we just did a spontaneous hug. Last time I saw her was up North hiking a week with her Dad. Now here she is again. Apparently yesterday she lost her hat, so she is running around with a piece of the trail map tapped to her head to make a hat/visor. Flame is always in character, always a little screwed up. Either out of water, ripped shoes, or in this case…..missing her hat.
We said our goodbyes and I rolled into a campsite next to the middle fork of the Kern. There was a JMT'er named Roland already setup. Soho showed up a few minutes later. We setup next to Roland…not sure if he wanted us there but he gets what he gets. Had a good chat with him later in the evening. He is some kind of painting director for Disney's theme parks. Helps setup new features in the park with his last assignment being in China for 2 years. Now he's working on the Star Wars thing in Disneyland. Disney is milking that Star Wars thing to the limit.
Soho, as usual, got all concerned about Roland's fire. I could care less. We are in a river valley and the ground is so wet that my ground sheet was soaked the next morning.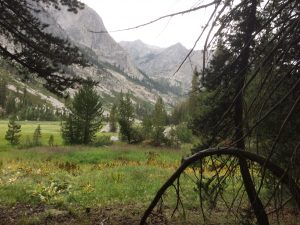 Did 16 miles today and cleared another pass.