Up and out before 7. Got a nice sleep at that campsite. So nice to be on a level pad. Scrappy and Sing Song passed our site before I left. They were 2 miles back….early risers.
The bad news is that my toes are killing me. They are cramped up in my shoes. The same size 11.5 shoes I have been wearing comfortably for the last 600 miles. Apparently it is common for our feet to flatten out and get wider and/or longer during a through-hike. Well, it looks like I need to jump yet another half size. Now instead of 10.5/11 shoe size, I need a size 12. At the next stop I'm ordering some new ones.
Today's hike was generally bland. Mostly mellow ups and downs through a few creeks and rivers.
Hit the HALF WAY MARKER today at 1320!!!! Well, I did skip 450 miles in the High Sierra, but I'll take the Win.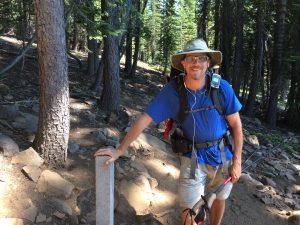 I caught up with Scrappy around 11:30am, passed her but she kept up and seemed to want to talk. So, I started information mining her.
She is a graduate student in Neuroscience and is also a behavioral therapist. She is doing research in Salt Lake around a behavioral therapy to help people break their opioid addiction. (drericgarland.com). The program is called MORE and involves training/therapy in mindfulness, reappraisal, and savoring. It took about 4 miles of hiking to understand what all this stuff means. Anyway, the theory is that opioid addiction to some degree started with individual's brains being out of balance in one or more of these areas. As they continued to use them, it reinforces pathways that feed this negative behavior. This therapy attempts to reverse it.
This is all mostly therapy yadda, yadda, which I mostly don't get and could care less about. I equate it to the old advertising saying: "Half the money I spend on advertising is wasted; the trouble is I don't know which half"
The thing I found interesting is that she is going to attempt to measure changes in the brain using an FMRI. Now that is something I buy into. Physical evidence of the behavior therapy effectiveness would be a leap forward, imo. She also believes there may be other therapy which could reduce certain psychosomatic symptoms like swelling and arthritis, once again measured via FMRI. They have a $20m grant to do their opioid research, so I guess the NSF thinks it promising.
At this point in the hike, I have closed the loop on the opioid "epidemic". First with some nurses I hiked with who bitched about the requirement to manage a patient's pain. The infamous question we all get at the clinic/hospital to rate our pain from 1 to 10. Then I chatted with a gal in charge of surveying discharged patients which carries a 2% increase in reimbursement for reaching some threshold. One of their questions is "How was your pain managed?" Now I talk to a gal who is researching how to get folks off of pain meds after they have become hooked.
Full circle. I think the problem in all this is the patient. Give them an easier way out and they'll generally take it. If I didn't know all the hazards, I would. Basically everything below my waist is aching, sore, or swollen since I started this hike.
Ok, now, back to the hike. It was mostly green tunnel stuff. Here are a couple good pics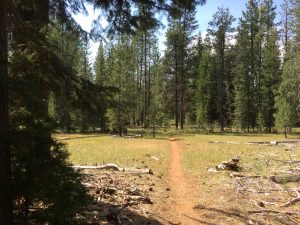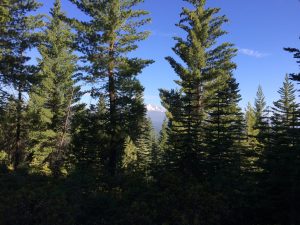 Stopped at Soldier Creek (1325) for some lunch and lounging. Scrappy hung around with us for a couple hours waiting for Sing Song who eventually showed up. Somehow he got behind us and was hiking mega slow.
Bunch of south bounders showed up. They bounced to Ashland like so many others we have met on the trail.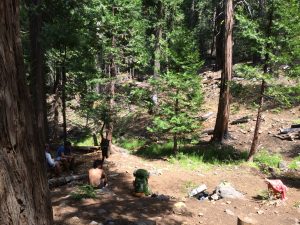 Around 3 we packed up and headed to Stover Spring.
We setup in an RV camp with some other hikers. Sonny, a 6 foot 1 female Taiwanese basketball player who is hiking with a Malaysian gal who smokes a pack a day. The Malaysian seems to be jumping around on the trail and is complaining about health issues. I don't think her 8 mile/day pace is going to cut it. Sonny seems ready to ditch her partner. That should be interesting.
Soho and I setup camp, ate dinner, and zipped up in our tent. We were chatting that a beer would be a nice nightcap. None of the RV campers were offering. Then at 8, a guy next us pulls up to his trailer. He is blaring country music…ugh. But, it turns out he has a cooler full of Coors and a mood for sharing 🙂 Unzip the tents and we head over. Soho keeps him busy talking about country music, the sawmill, and, of course, guns. Meanwhile I take down a 24 and Bacardi + coke. Had to deal with country music for an hour before that guy finally knocked out. Can't always get what you want…..
19 mile day. Tomorrow we are getting some love at Drakesbad