Ahh a glorious day. Today I head up to Mt Laguna at mile 40. Lot of elevation change on this one, so probably slow going. As I was packing up a couple of lady hikers stopped by to gawk at my camp site. They are training for a Southbound attempt next year. They took off about 10 minutes before me and I never saw them again. Maybe my pack is a little heavy.
Was a little cloudy in the morning, so the solar charger didn't give me the battery love I hoped for. In direct sun, while stationary, it will charge my phone in an hour. I strapped it on my pack and eventually got a full charge.
First stop was at mile 30, Kitchen Creek road. I had dumped some water there last week and sure enough it was undisturbed. Drank a liter and topped up with 4 for the climb ahead. Chatted with Charles-the-deer-hunter for a few minutes. He had a doe tag, but was running out of time. He said he had until Sundown before the season ends. He mentioned that he saw the two gals I met earlier. They were happy to hear that bambi was still breathing.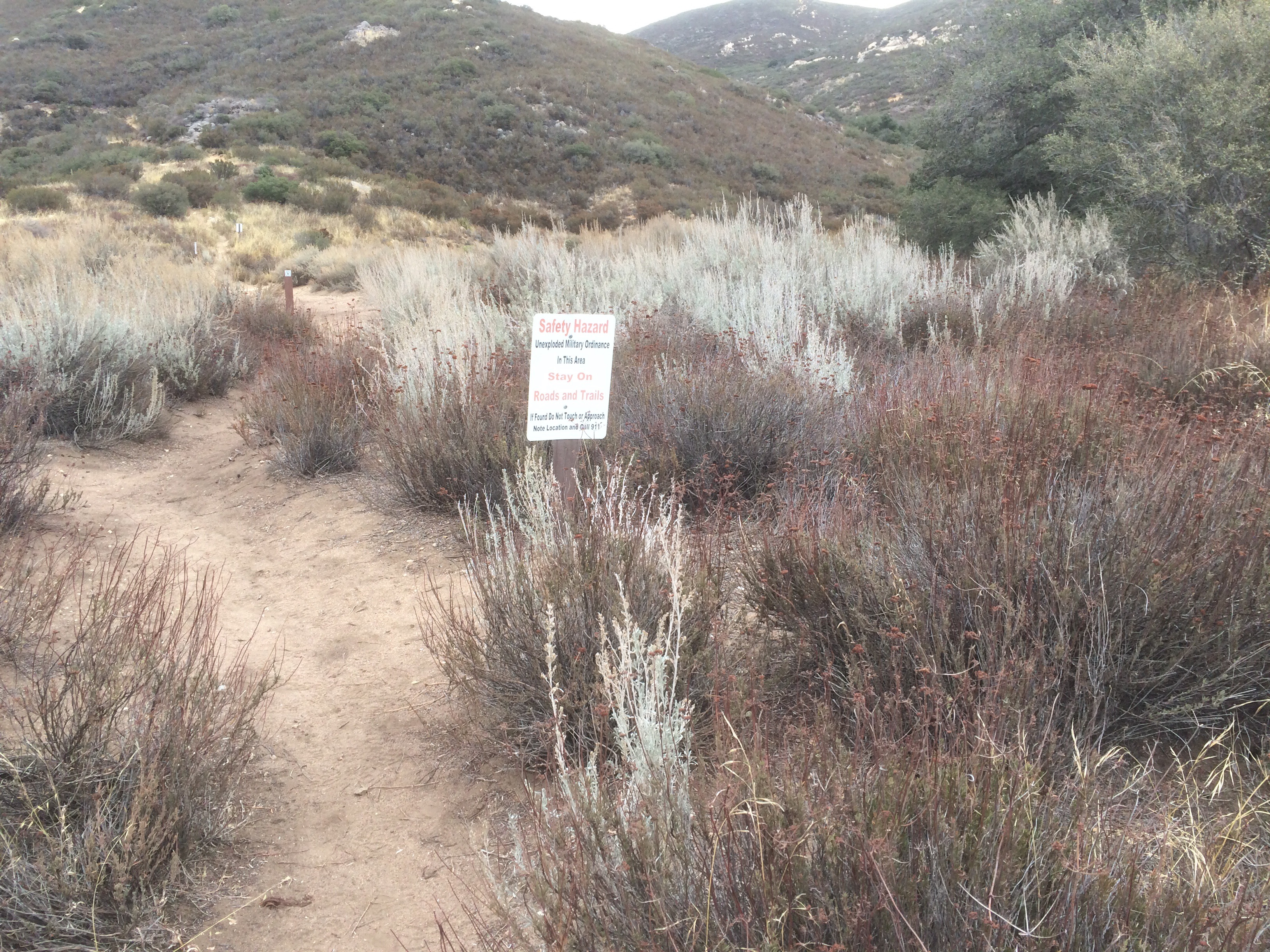 A couple of guys hiking up to Laguna and I kept lapping each other throughout the day. Not very talkative. Had a USB speaker blaring talk radio. Got rained on a couple times while climbing. Just a 10/15 minute downpour, then it would let up. Kept the trail dust down which was nice. My big worry was getting to Laguna and finding a cabin. The Delorme said a storm was coming in and I'm not to keen to sleep out in it.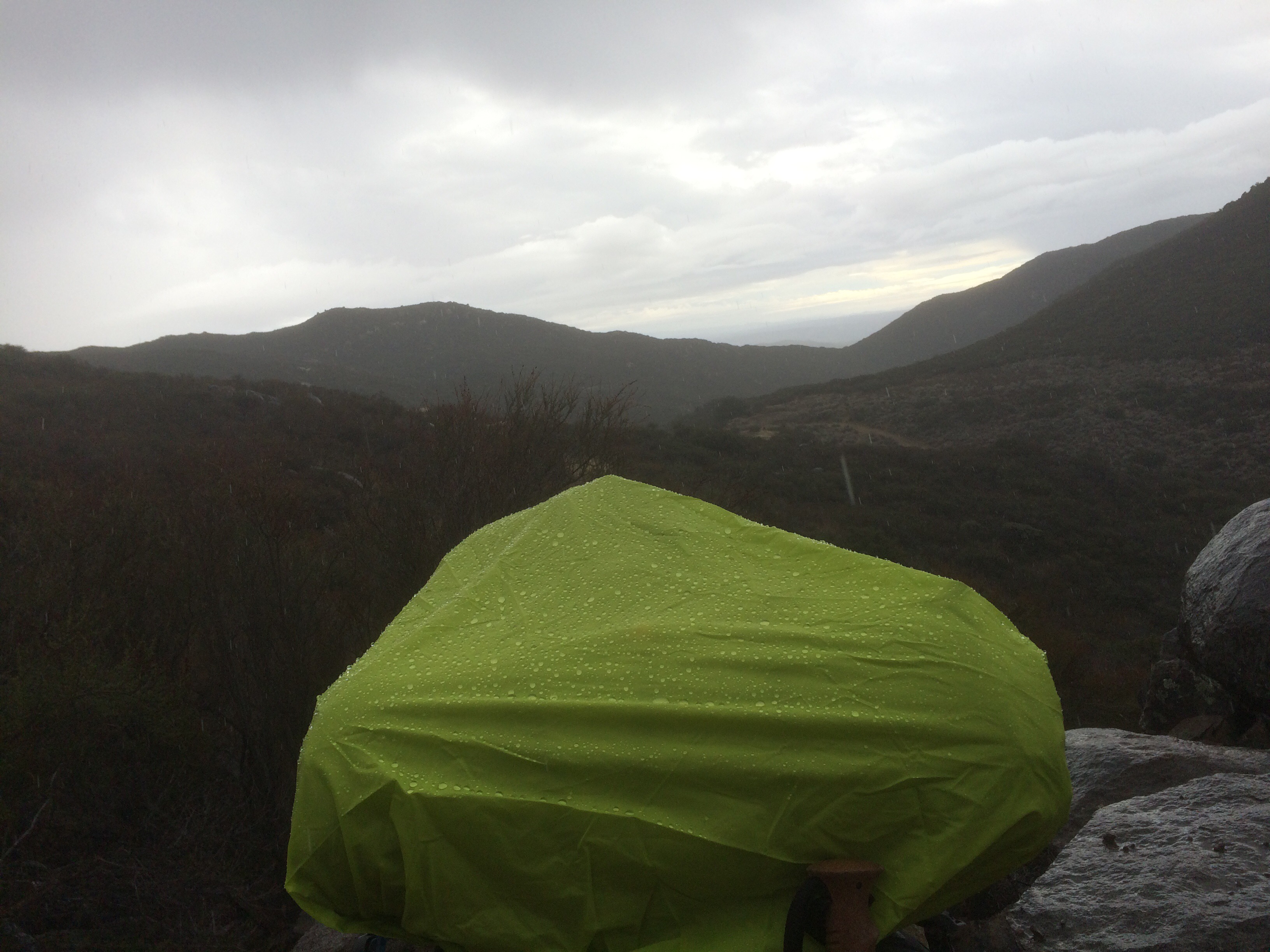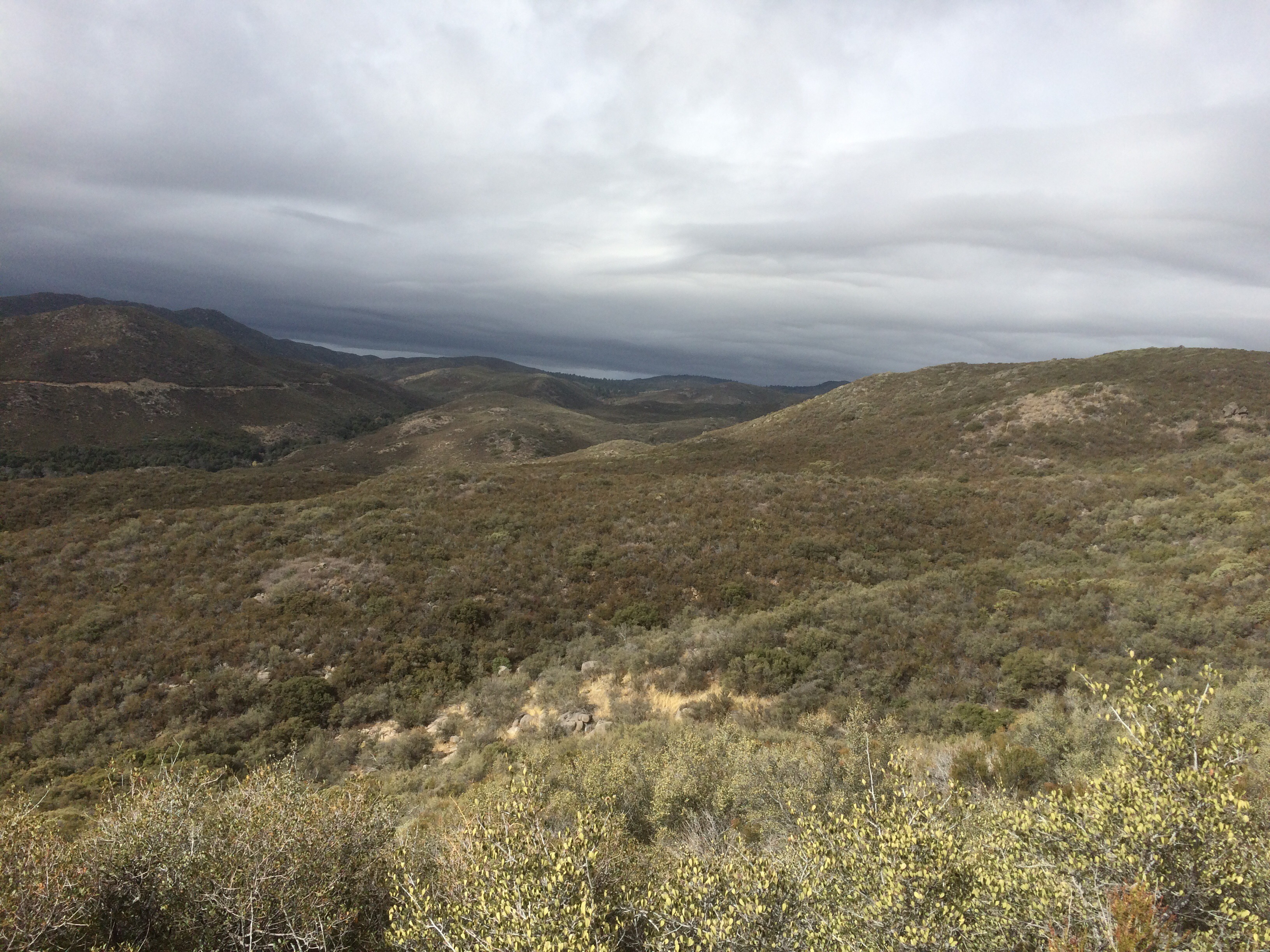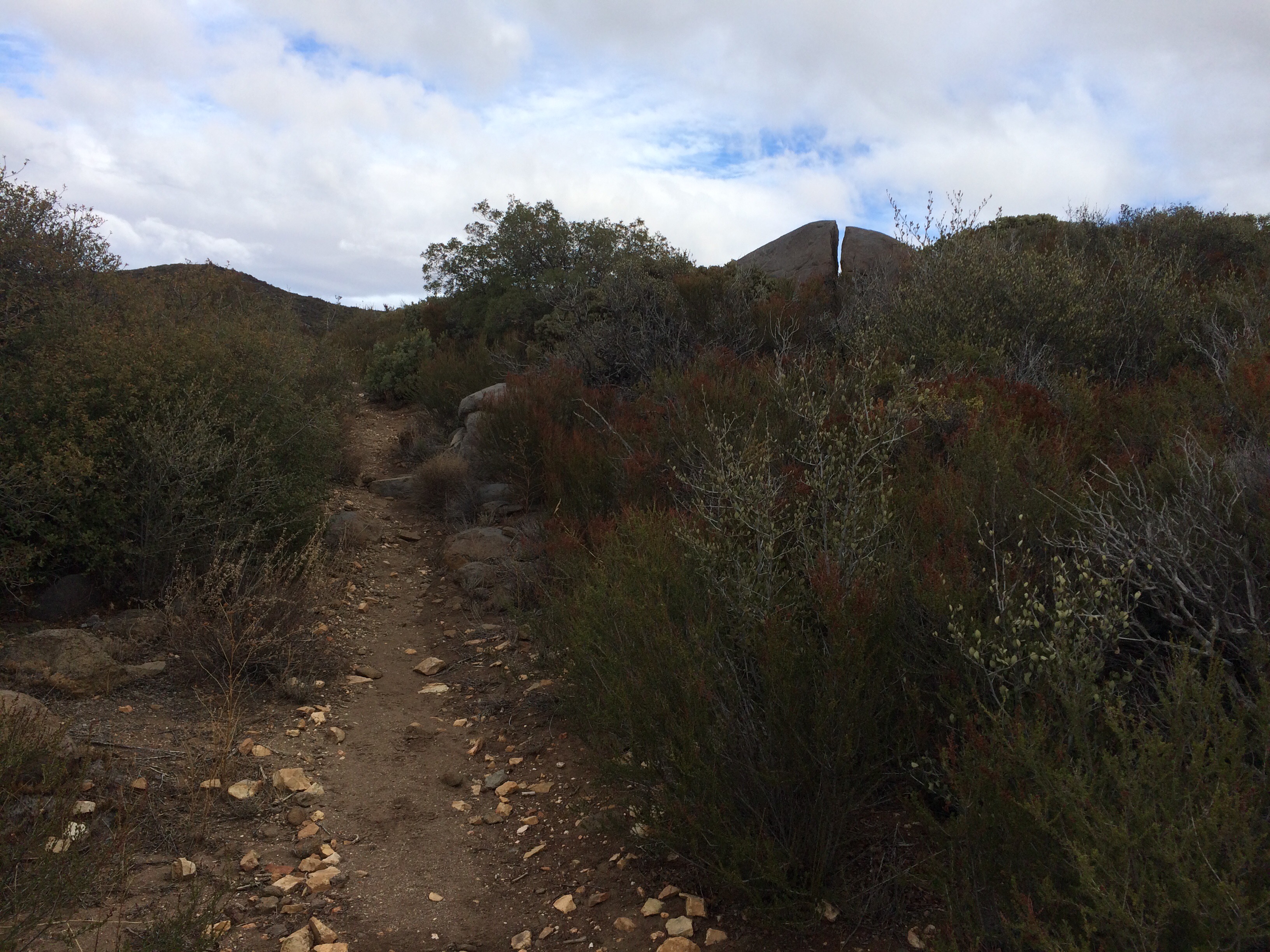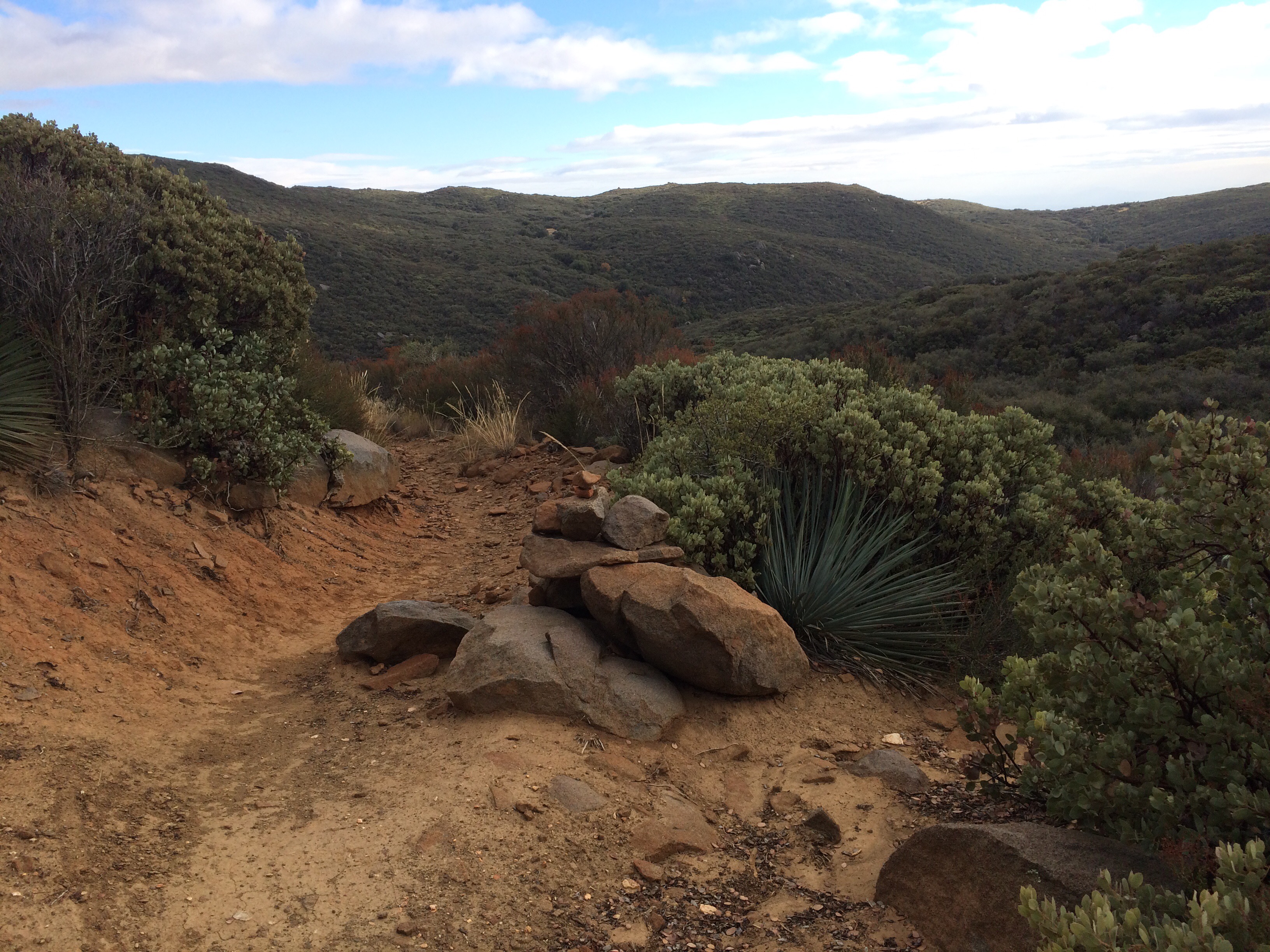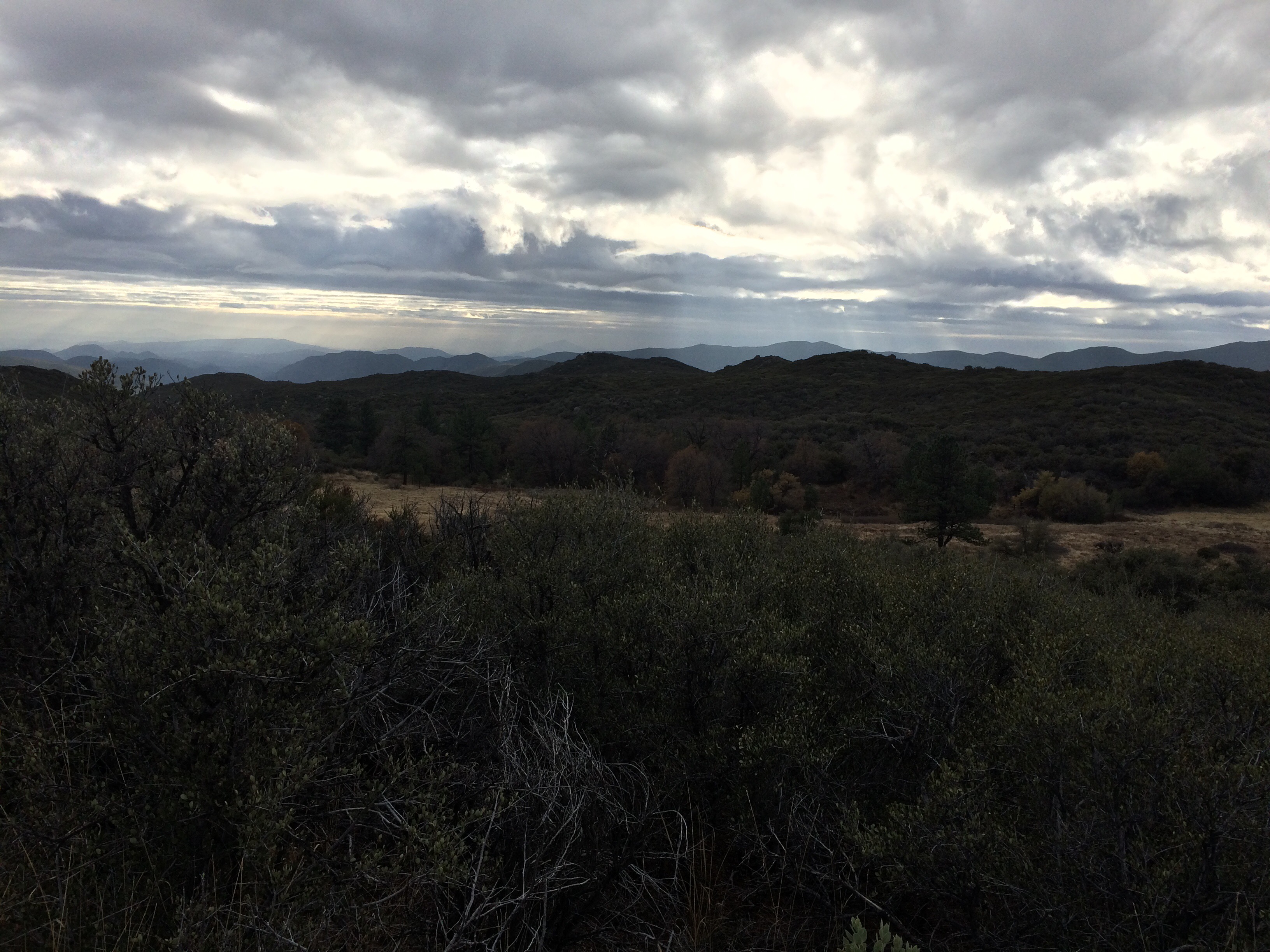 Finally hit the tree line. Nice loamy ground, some shade. Around mile 38 I sucked my hydro pack dry and was down to half a liter in a bottle. It was getting late and I really wanted that cabin, so I picked up the pace.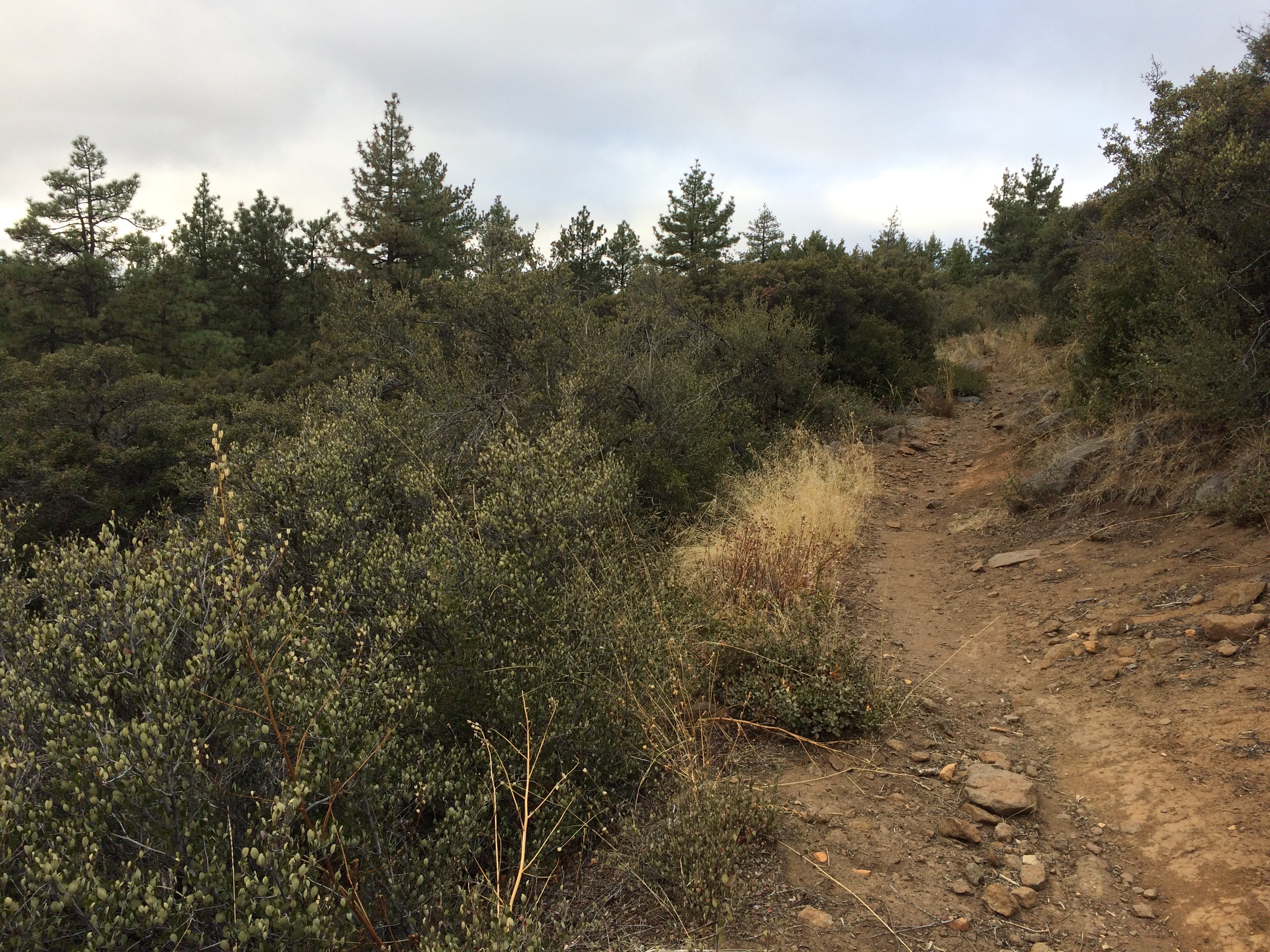 Bailed off the trail around mile 40, hiked into town and stopped at a cafe. Asked about lodging
Cafe Dude says, "Quarter of mile down the road. They close at 5, but sometimes they leave early."
Me, "What time is it."
Dude, "4:30"
Me, "F$%#$%"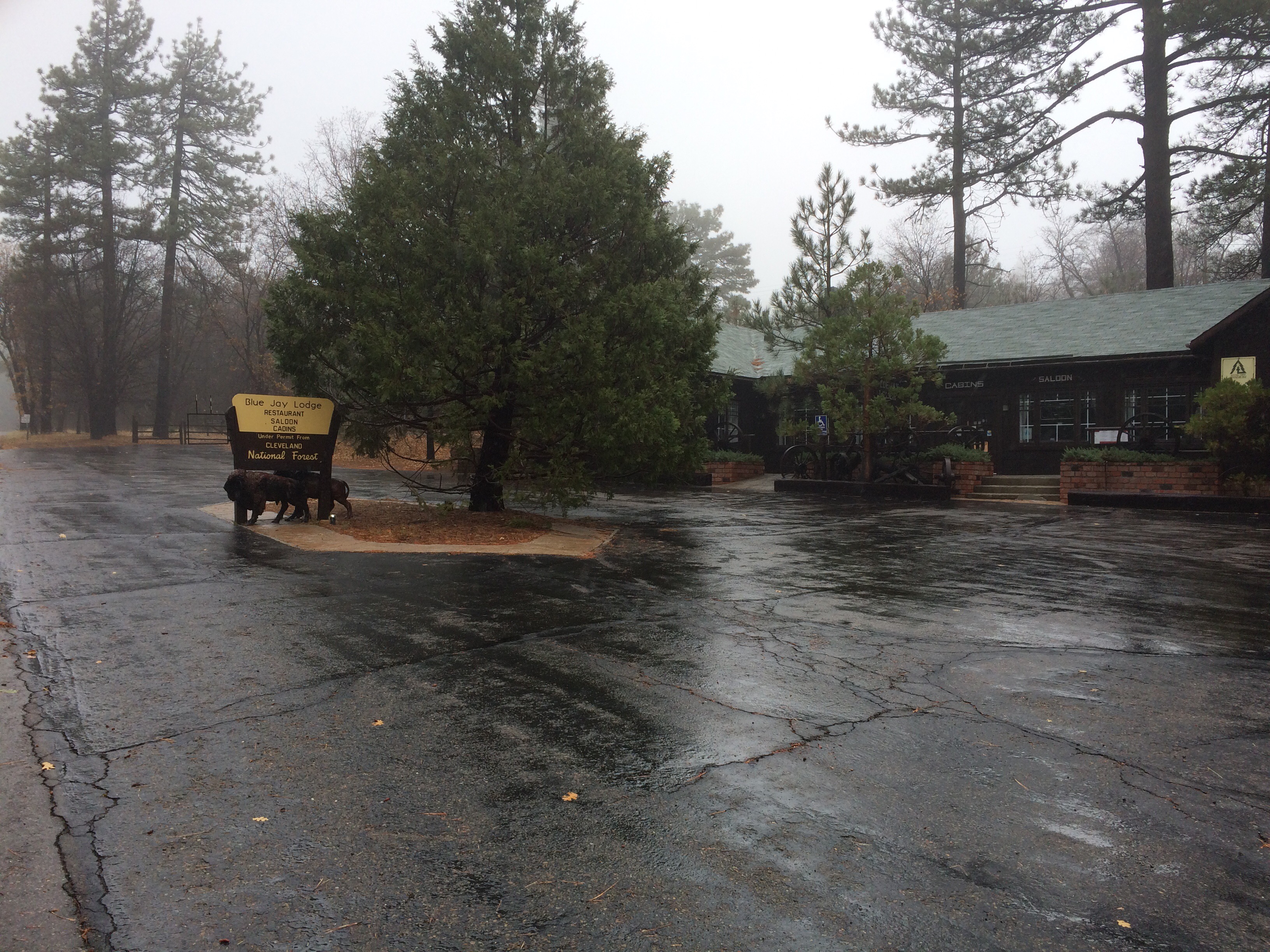 I jammed out of the cafe and hightailed it up the road. The first lodge was indeed closed for the night, but fortunately I the other was open. Paid, settled in, ran back to the cafe for the obligory burger, then did some laundry in the "magic bucket". According to owner, the Magic Bucket, with its included detergent, will clean up my clothes to sparkling freshness!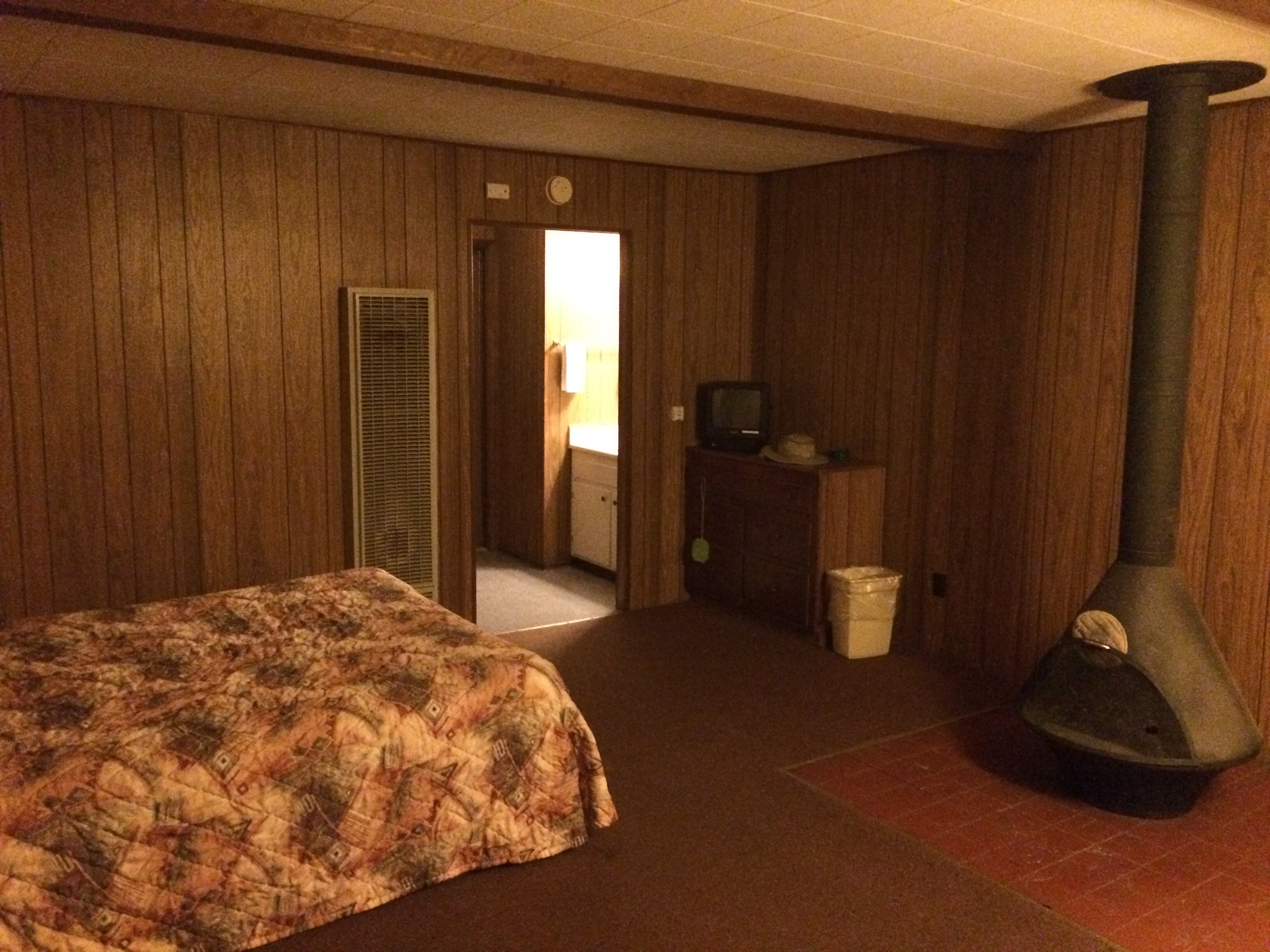 I walked back to the Cafe and got a burger and beer before they closed. I finally resolved my dilemma about the $20 bill I found on the trail. I tipped the kitchen staff with it. If anyone felt a disturbance in the Force on Sunday night, I'm pretty sure it was that. Good to have my Karma zeroed out.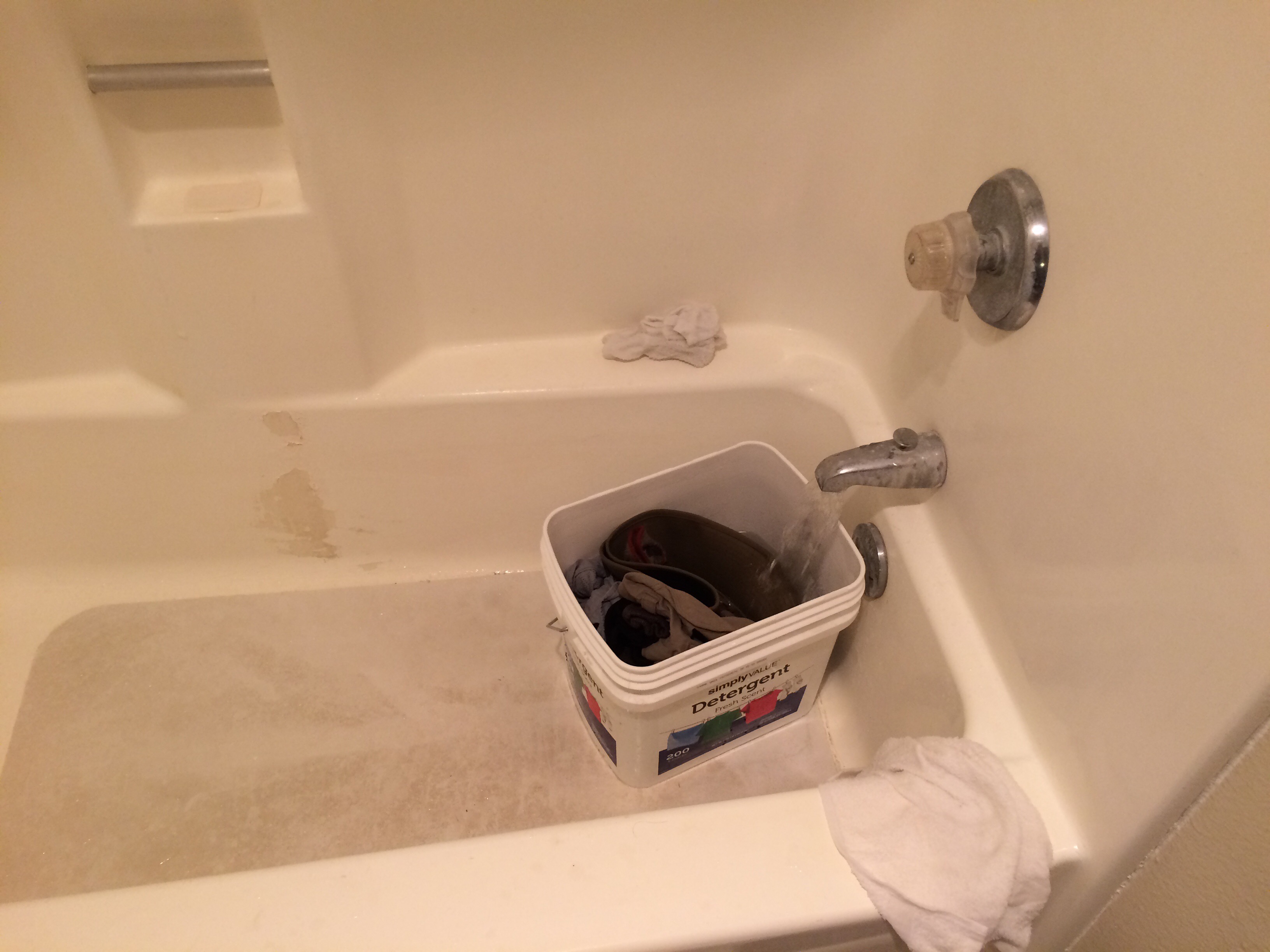 It is cold and windy out. I'm warm in my bed. All is good.