Got a picture of our campsite. Notice the no camping sign. Heh.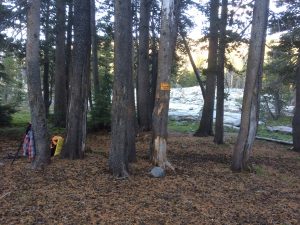 Today it is 18 miles to Sonora Pass and dinner at Kennedy Meadows North. There was a short descent then the first bridge crossing I've seen in a few days. I think this may mark the end of creek fording for the rest of the hike, thankfully.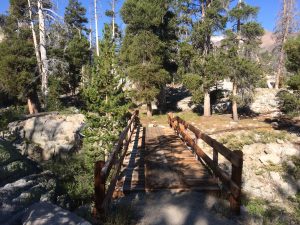 Sonora Pass is a high point for the highway 108, but conversely a low point on this section of the trail. After crossing the bridge, there is a huge climb past the Emigrant pass trail junction and the boundary of the Emigrant Wilderness. I believe this intersects one of the routes folks took in 1840s/1850s with their wagon trains to California. Talk about brutal travel. I can't imagine what it was like hauling wagons through here.
The climb up follows some seasonal streams that run off a huge bowl of high mountains. It is steep, but not a shear climb. There is an enormous amount of water that flows through here during the snow melt. Took a picture on one of the many creeks containing the tree wreckage from this years avalanches and snow melt. Most of these uprooted trees still had green pine leaves on them. It must have been something to see.
At 9500, the trail left the last of the trees and continued up over a barren landscape. The climb was mellow, but the winds are fierce up here. Here are a series of pics showing the switchbacks. It is a little hard to identify, but a couple of the switchbacks follows a 5 foot wide road. It doesn't look like a forest service road…..I think this might be some of the original wagon trail they cut 150 years ago.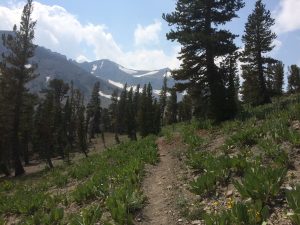 Over the first crest, the trail continues ascending along a ridge the borders yet another huge bowl to the next valley below. It slowly ascends and curves about 180 degrees, starting due North, curving South, East for a while, then back to due North. The freaky thing about it is the wind. It enters the valley below, then spills over the crest so for hours I'm blown by 20-30 mph wind that is ALWAYS perpendicular to my course of travel. It is freaky.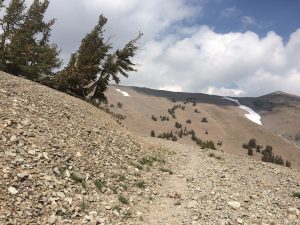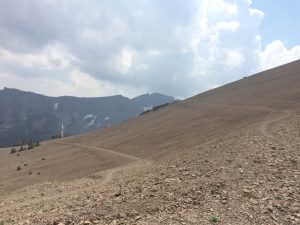 In the valley below, you can see the whole Sierra cycle of life in a single glance. It starts with a high barren rocky bowl. Water flows down to high barren lakes, which then flow into alpine wet lands and meadows. That drains off to more meadows and lakes where the trees start to grow. Finally it lands in an even bigger lake or reservoir (not sure which) and then a bigger creek/river which will end up in toilets of all the peoples along the coast. Neat….well except for the toilet part.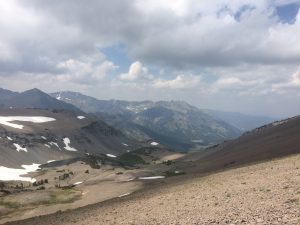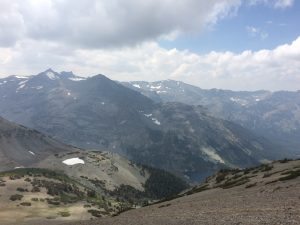 Finally over the ridge at close to 11k, there were a few snow fields to cross on the descent. I started running into hikers going the opposite direction. A few PCTers, but mostly weekend backpackers and day hikers. They are sparkling clean.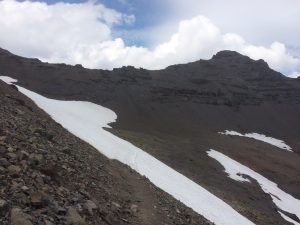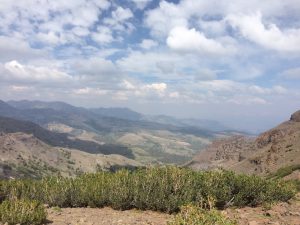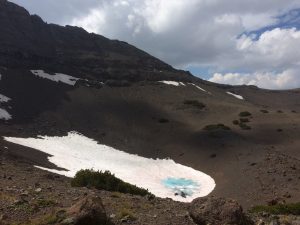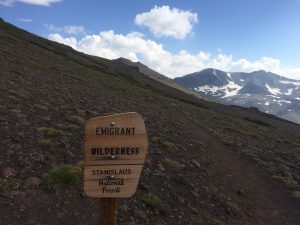 I made the 108 junction at 4. Soho had passed me somehow during the trip and was waiting there with a dude who offered to take us into Kennedy Meadows. Apparently Soho thought I was ahead of him and hiked faster to catch me. He finished about 1.5 hours ahead. I wish he would stop doing this. It is not good on the body to hike this kind of distance outside your ideal pace. There is a reason experienced thru-hikers preach "Hike your own hike…." Well, it worked out good for me at least. My ride was waiting.
We got into Kennedy Meadows North and were put up in their bunk rooms for $35 a night. Nice digs. This place has a huge pack station. Soho figures there are a 100 head of mules and horse in the stock camps. The place has primitive cabins, huge areas for RV's/horse trailers, and plenty of tent camping. Seems to be a popular spot for folks to bring their horses.
The cafe served up great ranch-style chow and their store is well stocked. I picked up my resupply box and started sorting things out. Soho's box is not there (of course). He is trying to figure out what happened (again). I might be hiking solo tomorrow, but for now all is good. I'm back in my groove again.