Up at 7am, broke camp and on the road by 830. Talked to a ranger who suggested a good dirt ride starting at Viejas Blvd behind Perkins Store in Descaso. I put the coordinates into the GPS. Unfortunately, I tried routing my other waypoints around it and ended up riding back and forth around Mt Laguna and wasted bunch of time. Maybe next time.
Decided to skip one of the drops North of Laguna since there is a water tap there. While roaming around I stopped and chatted with a few gals doing a section hike. They said they are doing the PCT in 10 mile chunks and figure they'll be done in about 10 years. Heh.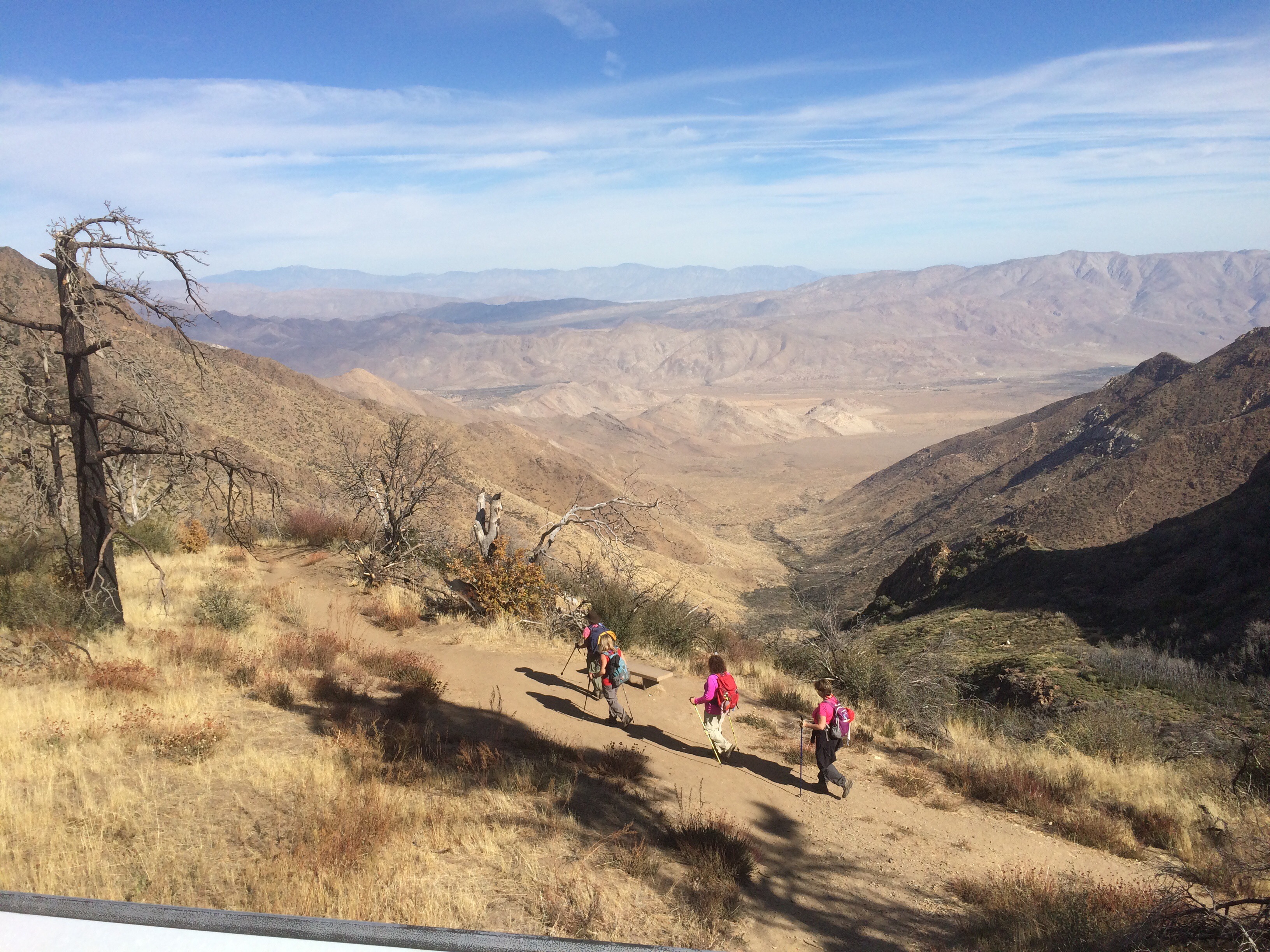 Of my other two drops, got one done at mile 30. Chatted with a south bound hiker who was just finishing up. He was bitching there was no reliable water in an earlier stretch (where I have already put water). He now had bottles dangling from all over his pack and straps. Wish I'd gotten a pic, but he jammed out after a 5 minute conversation.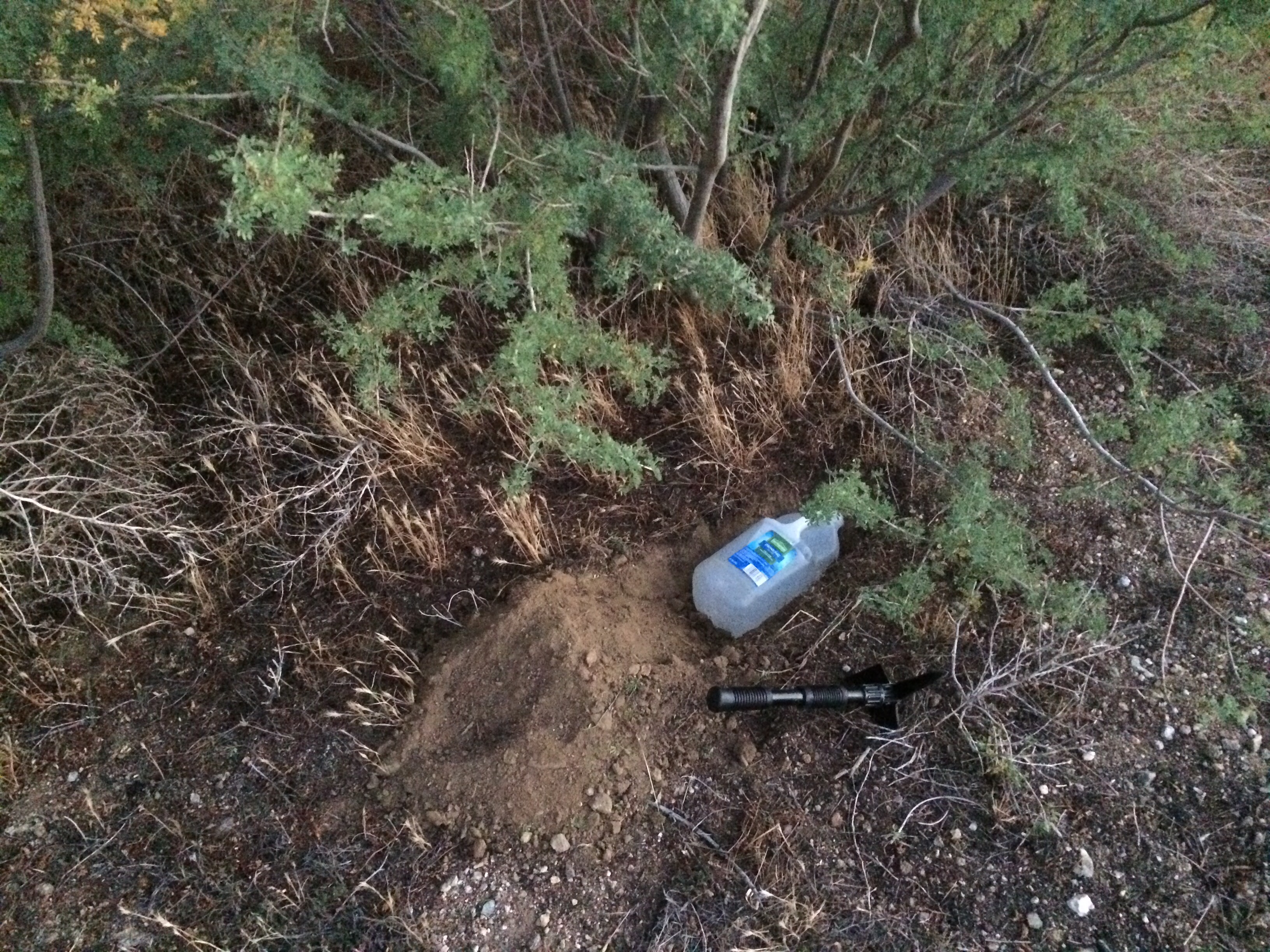 Last drop finally required some off road riding. After 5 miles on the dirt I hit a gate with less than 1 mile to go. Oh well.
After all the dicking around, it was already noon so I decided to make my way back North. I always wanted to see the Salton Sea, so I routed out that way. I've seen the pictures and had this image in my mind of huge disappointment. The GPS put this as the center of the Sea.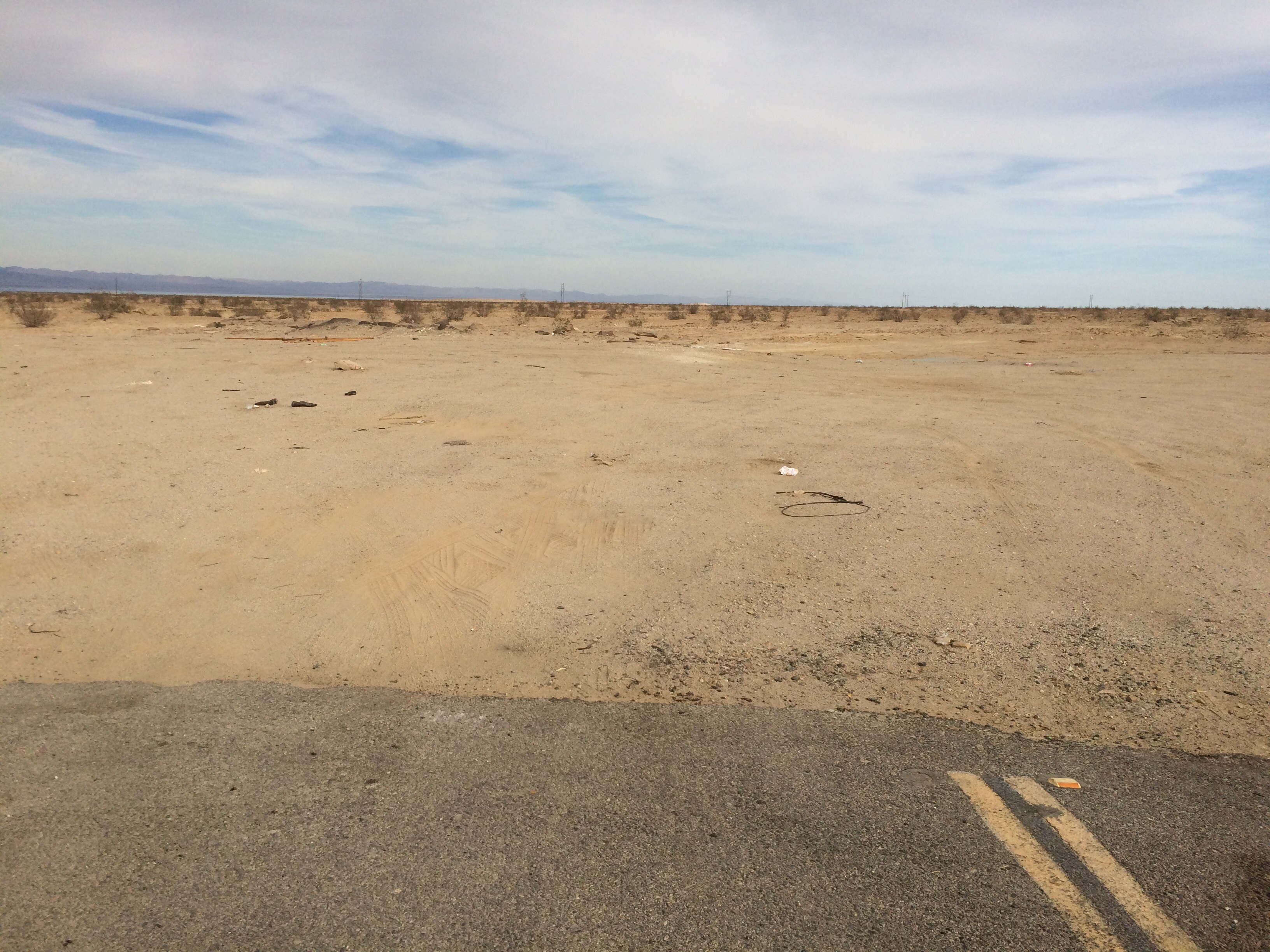 Off to Salton City. Must be some Salton Sea action there? There was this sign by the highway on "main street"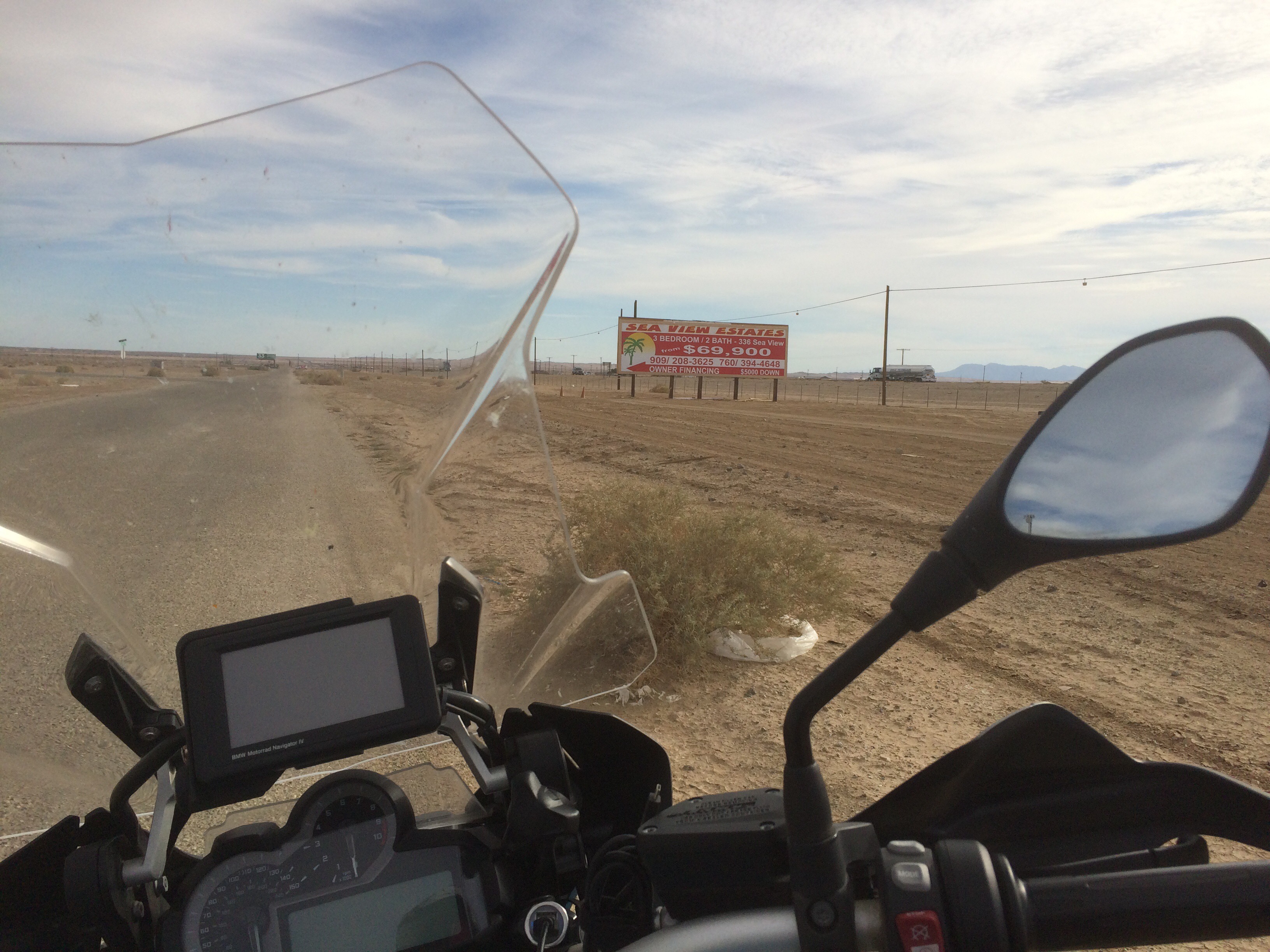 Alice has been bugging me about living by the water. Could this be our opportunity? Cris-crossing the empty desert landscape are streets named after watery paradises like Honolulu street, Maui blvd, Monterrey street, etc.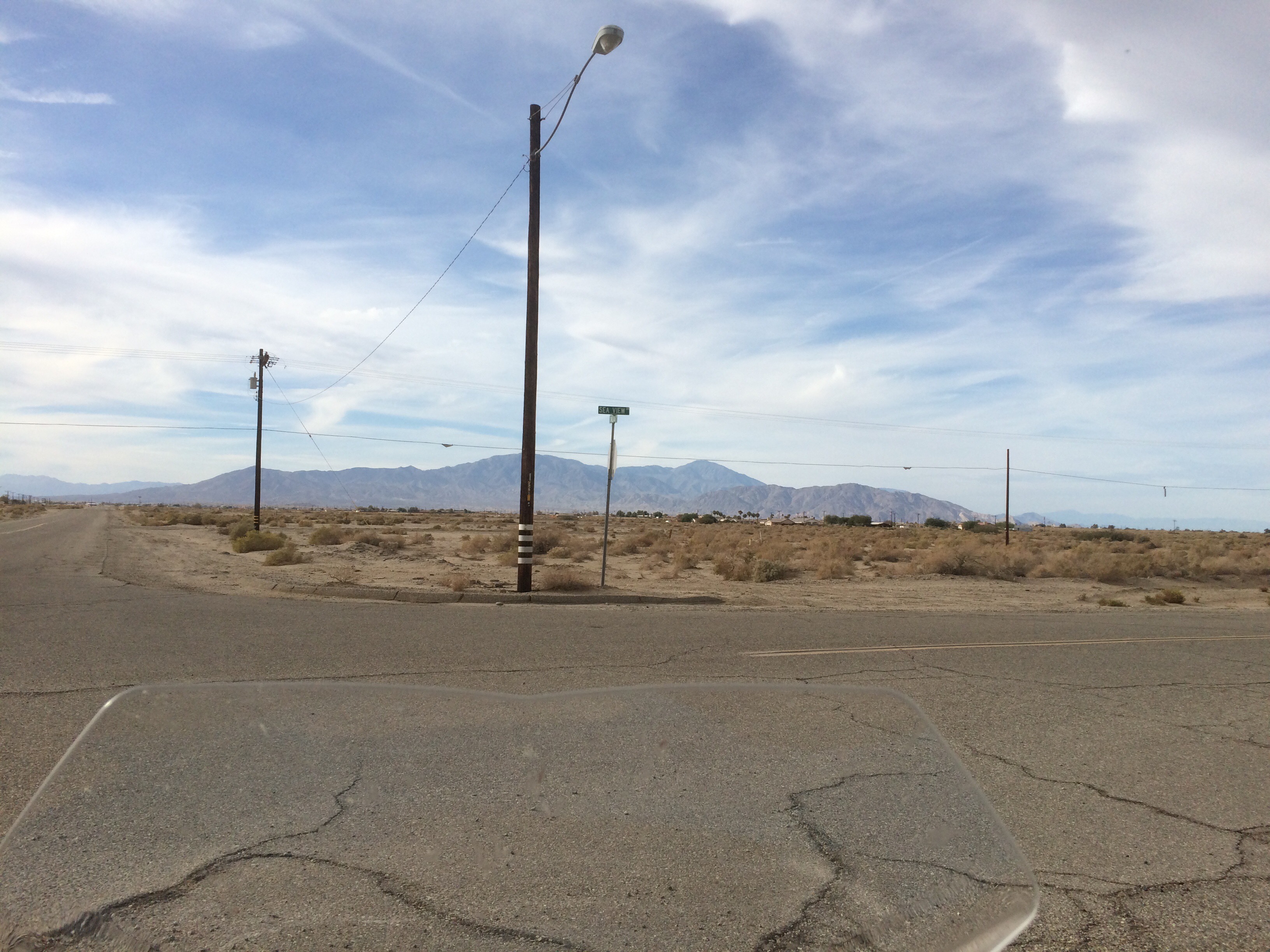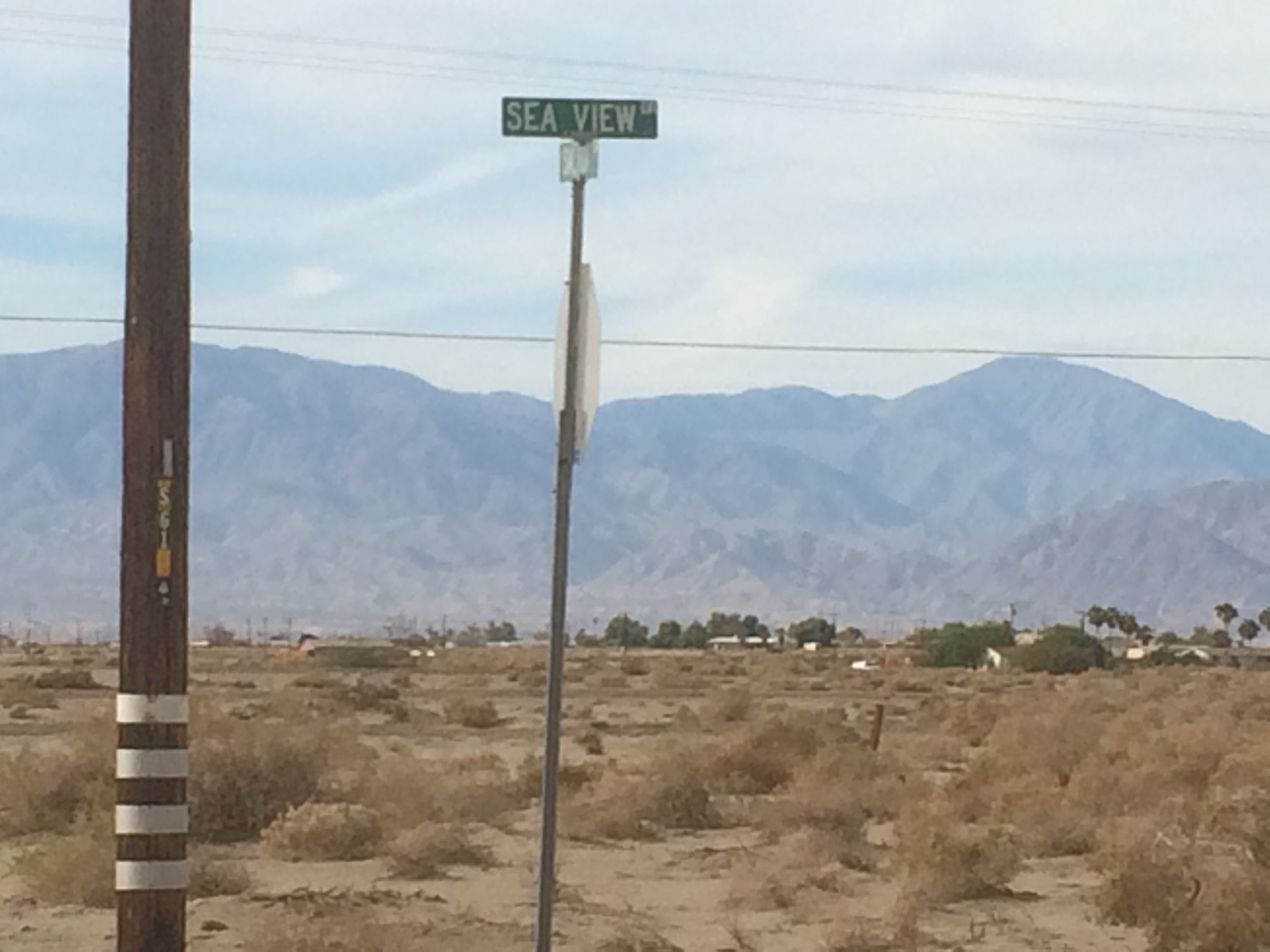 And here we have one of the lovely estates in the "keys".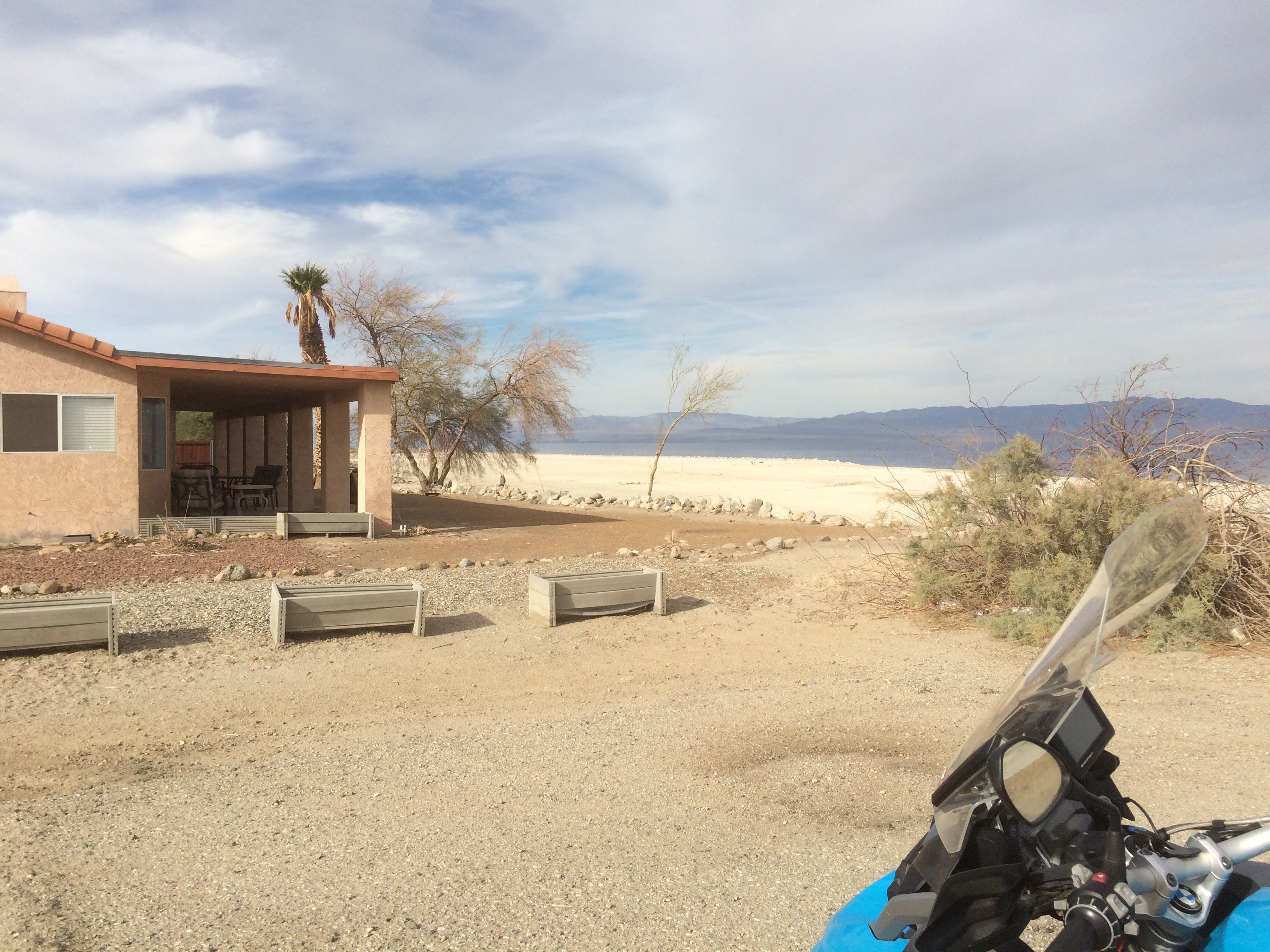 Here's the view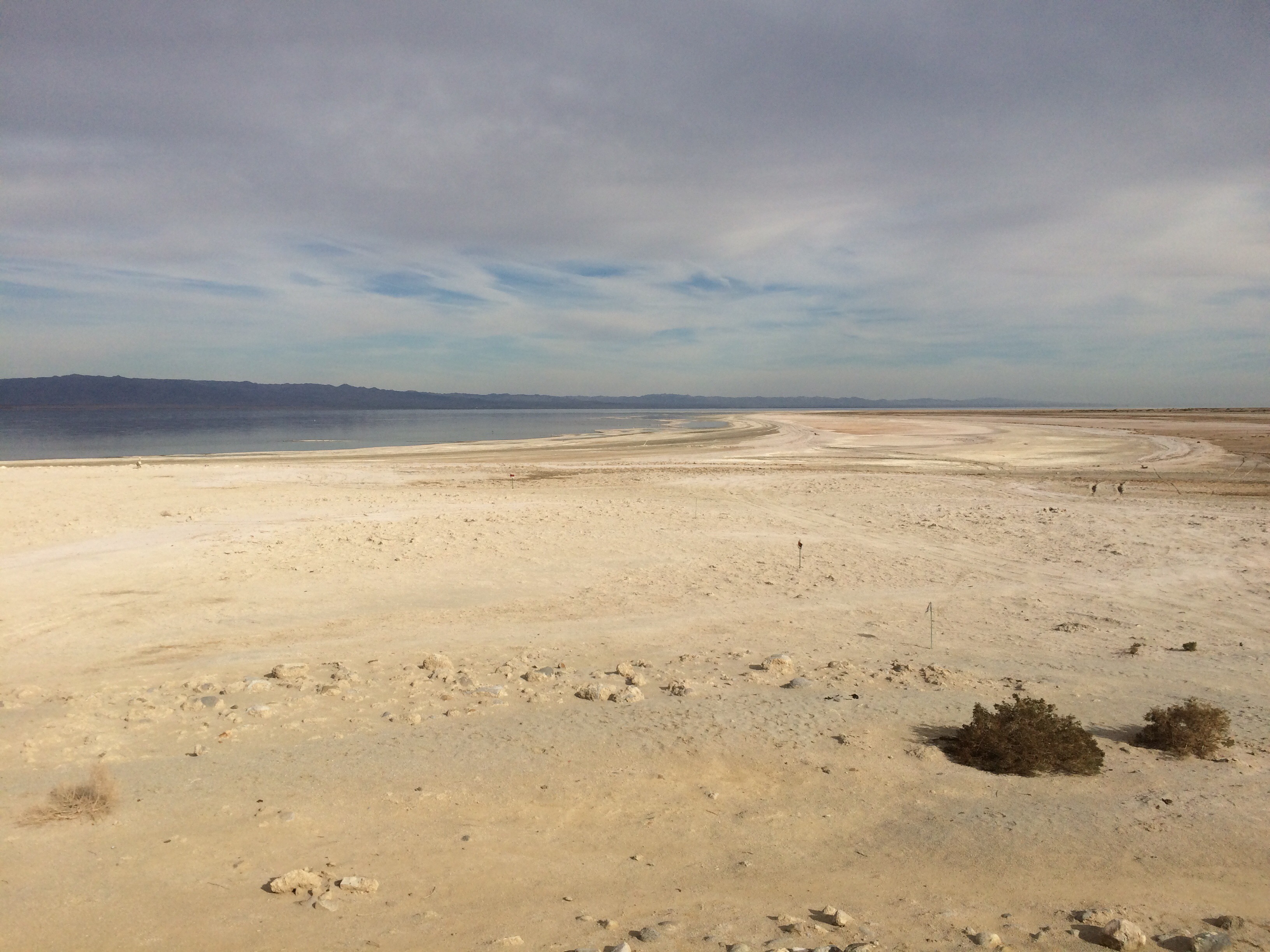 This house includes a boat dock!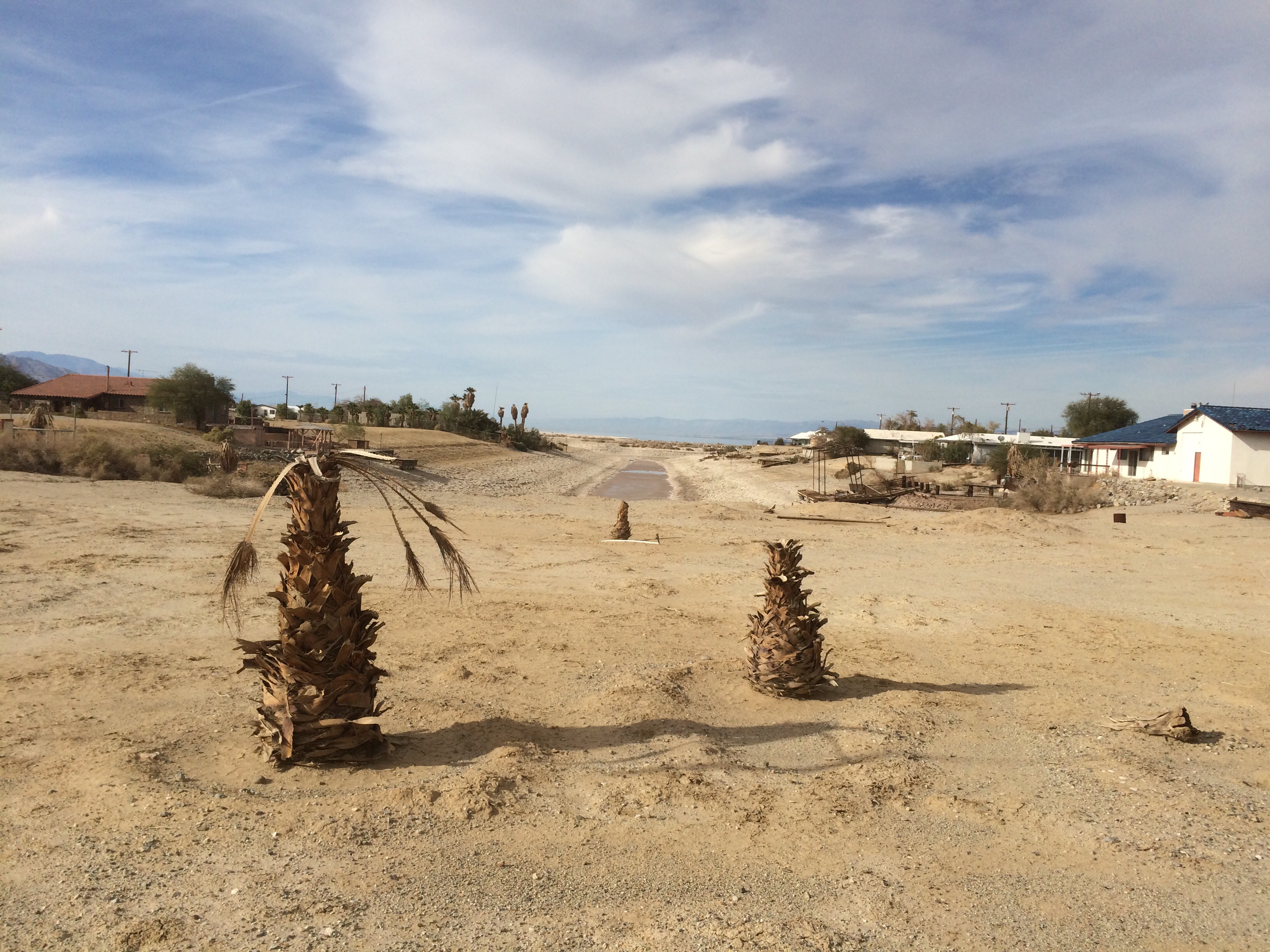 Wow, sign me up. For some reason, I love finding these gravestones to human folly. A sea created by accident, which was clearly going to disappear eventually, spawned a few hundred shacks and a grid of empty, decaying streets in the middle of a hot, windy, desert. Things like this are scattered all over California. Hopefully I'll be a little better writing about them in the future.
For further reading, this is a good article about that special magic of the Salton Sea.
BTW, I sent the photos to Alice. I don't think we'll make an offer.
Oddly enough there is a thriving tourism business here. Folks riding Razors and Quads in the dust bowl. After lunch at the only restaurant I could find, I chatted with a couple about the riding (all flat and sandy). Got a picture of their two bobble heads in the back seat. The little guy in the foreground thought he should be driving.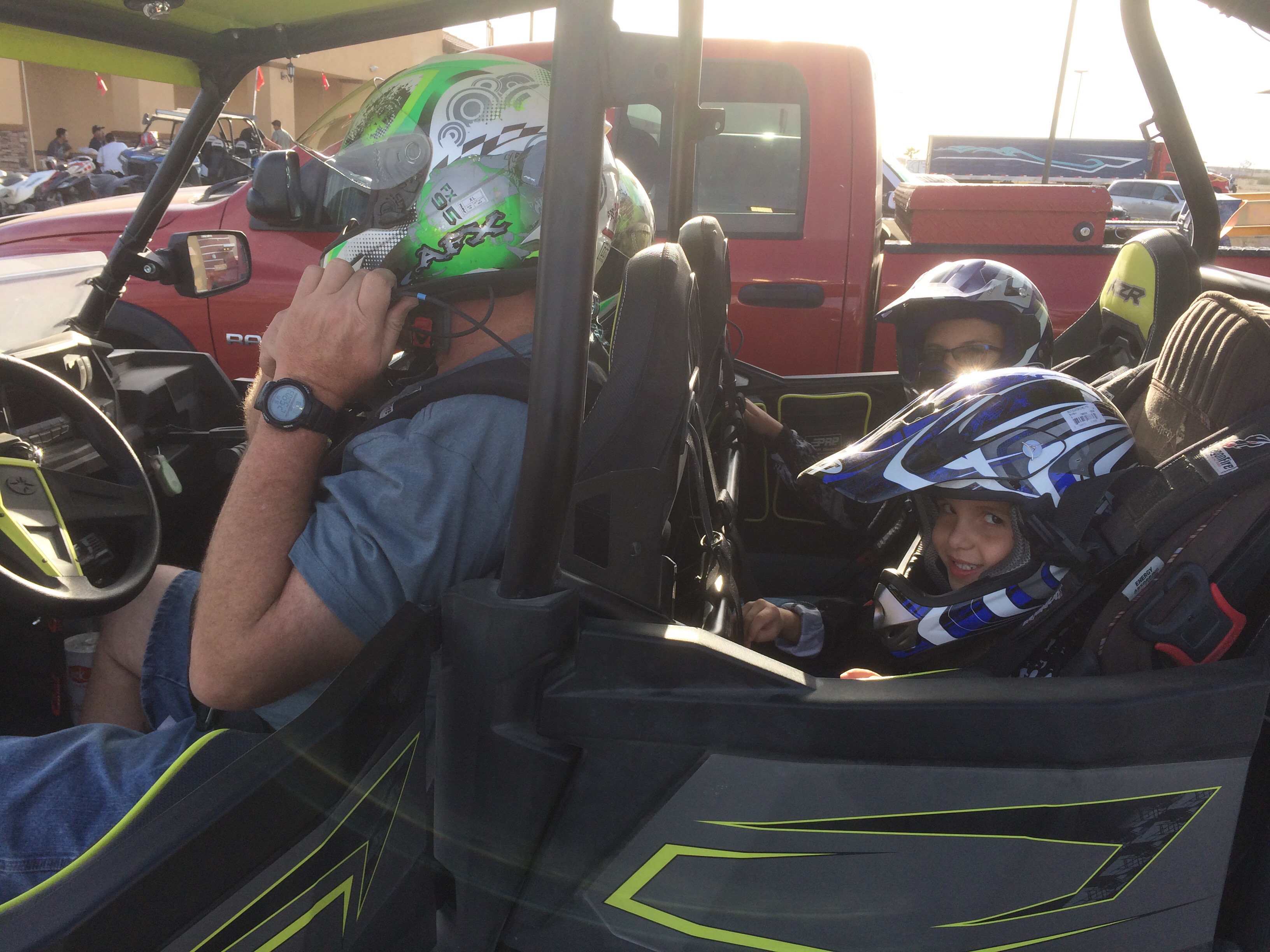 I left at 3:00 and don't plan to return any time soon. From here it was 90 mph most of the way to the 10, through palm springs, Riverside, then 210 back home at 7:00. Traffic was bad from Riverside onward, so about 70 miles of lane splitting stress.
From a riding point of view, I saw several good spots in Cleveland forest area. I'd like to go back there again. The bad news is that traffic getting to/from is insanely bad. Next time, I'll have to plan for crossing this mess only in the very early mornings.
Route Summary