Woke to this
The wind just never stops man. I feel like I'm in one of the circles of Hell. F@#$ this wind. F#$% this desert. I'm sick of all this burned out terrain.
Packed my wet sleeping bag, did all my morning stretches, and bugged out. It was 7 miles to Walker Pass. Most folks hitch into Lake Isabella for a day, but I plan to push through.
For the last 5 days, I've been really missing my hiking bubble. While I never really hooked up with a group, I have been hiking among the same group of people. I miss them. Bam Bam, Joe Dirt, Trash Panda, Hiker Daddy, Manny Pack, and all the rest. Not sure what to call this. Bubble-Displacement? Bubble-Envy?
I've been checking the trail registers to see how far my group is ahead of me. Started out I was 6 days behind. I've been making up some time. If I skip the Isabella stop, I'll be 4 days back. One positive is that I've noticed Bottom (one of my favorite German dudes) is only a few days ahead of me. Maybe I'll catch them in Kennedy.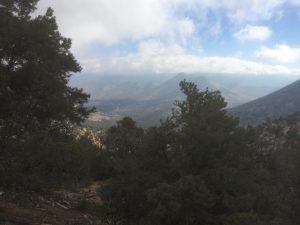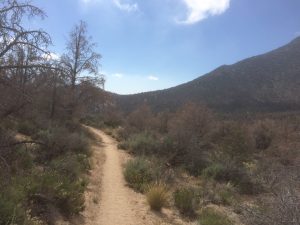 Anyway, made Walker at 9:30. Trail angels have been busy here. They left us a ton of sodas in ice chests, a dozen loaves of bread (almost expired, who cares), Nutella, and peanut butter. Ran into a nice group of folks hiking together: Land Mammal, Cake, twin girls named Rise and Shine (heh), and Snakebite. Sinatra rolled up to join in. We all hung out together for a couple hours picking through the snacks.
Hikers keep rolling in and there are angels shuttling in more goodies. Donuts!!! Later Land Mammal turns up with pizzas for his group and I manage to yogi a couple slices.
Then my old buddies Zach (Sizzle) and Austin (Seabiscuit) show up! Finally some faces I recognize. We spend some time catching up. They are now hiking with two gals, one Danish and the other Dutch. They are full of stories. One of them is that they took a zero at some town, visited a thrift store and bought a vcr/tv combo + the lord of the rings trilogy on VCR tape for $20. They watched one or two of them, then left the lot at the hotel. Funny dudes.
I'm looking at my meager food bag and finding that I'm running short. Got a couple mountain house meals, some candy bars, a tuna packet, some instant oatmeal, and a single serving of peanut butter to last me for 3 days and 50 miles.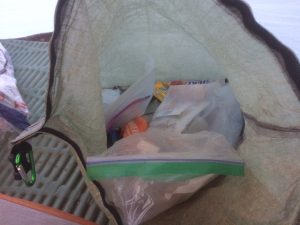 Back on the trail around 12:30 for some climbing. 5k to 7.5k over 7 miles. Back up in the trees and mostly protected from the wind. It was a pleasant section.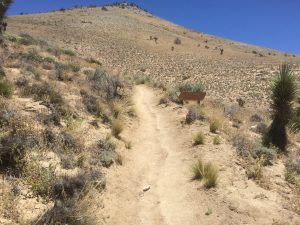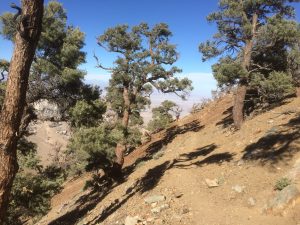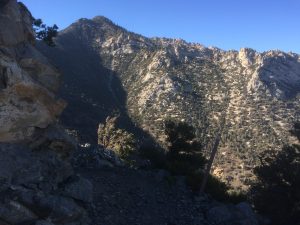 Seabiscuit and I hiked together for a while. Ran into Jan (a german dude) staring at the owen valley below. Said it reminded him of Germany. Dunno, all I saw was brown misery. Guess the guy is getting homesick.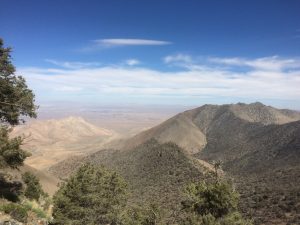 After that it was back down to 5.5k to Joshua Tree Spring at mile 664. Nice and protected. Plenty of water. Zach's crew was camped in the heavily wooded area next to the creek.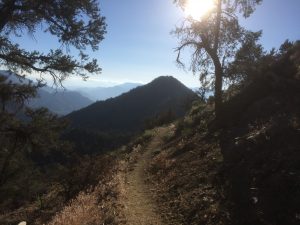 I threw my pack down in a potential tent site and walked down to chat with the crew. While we were chatting it dawned on me that one gal's voice was not matching any of the participants. Turns out it was the Dutch girl….she was 30 feet above me in a tree. Hmm… To each their own, I suppose.
Anyway, I climbed back up the hill to setup and saw ants covering my bag. Bad spot. Brushed them off and setup a few hundred yards away by myself. Finally a good night's sleep.